Just moments ago (on my iPad at least) SiriusXM rolled out a shiny new version of their iOS app and like their beta desktop program released just a few weeks ago, the mobile app now features the same great OnDemand goodness.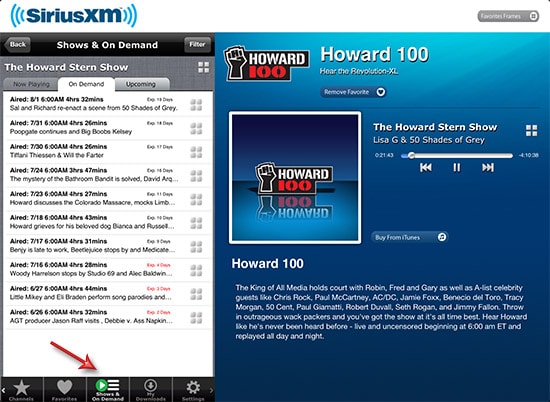 In addition to great OnDemand content, this new app also features the ability to "download" and store select shows for offline listening – heavy data users rejoice! Unfortunately, this feature is only available for select shows and while you can download The Howard Stern Show itself, certain specials like "Best of the Week" and other Howard 101 niche programming seem to be off limit.
What I can see is that you can store other great talk shows like The Jason Ellis Show, Cavino & Rich, and Jay Thomas as well as a plethora of SiriusXM Town Hall specials. The app page does mention Opie & Anthony as well but as far as the rest of the XM side goes, I couldn't tell you because alas, I am only a Sirius subscriber. I could have sworn the company's name was SiriusXM but, I digress. Maybe someone on the XM side can share their experience in the comments below.
To Download one of the select OnDemand programs simply tap the action menu (little grey boxes) and select "Download This Episode" from the list of options. Downloading a show on WiFi takes just a minute. Listening to a show is as simple as selecting it from the "My Downloads" pane, which can be easily reached from the main menu at the bottom of the screen.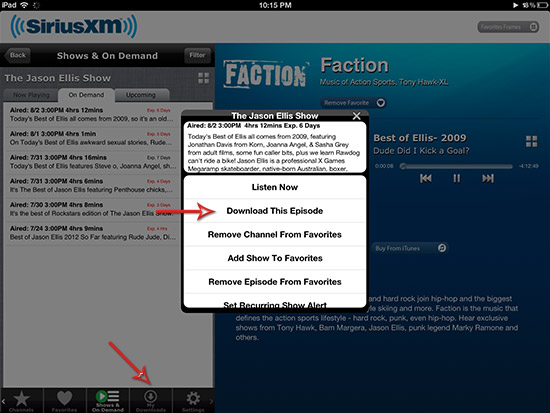 Like the web player, the new iOS app also features an option to manually jump to any point during your favorite show by simply dragging the progress bar. A huge win for anyone who knows a simple skip previously jumped you to the next commercial break.
Early reviews on the App Store seem to be singing praises with comments like "this proves Sirius is finally listening" and "they finally got the mobile app right!" Sadly, a few others are reporting they can't even connect because of network errors. All I can say is, there is no network error here.
UPDATE: To fix the network error issue, simply delete and reinstall the app — problem solved!
The version 2.2.0 app also contains "many other enhancements and fixes" — not sure exactly what "fixes" they have addressed but lets hope there is no room left for complaint.
So, what do you think? Share your thoughts in the comments below.