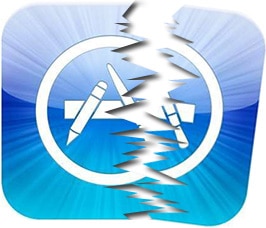 For some SiriusXM subscribers it's been a very long 30 days since the company launched their much anticipated MySXM app. While the majority of people tend to agree the new App is full of great new custom features, the few haven't been able to fully enjoy them.
The seemingly unlucky minority, who I happen to be one of, have seen a barrage of random and often maddening crashes. It doesn't matter when you're listening, or what you're listening to. It might happen once every minute or once every hour but, eventually it will get you – and when it does, it often causes you to lose your place in your favorite show.
Subscribers are rightly upset and they've taken to iTunes App store to let their voice be heard. At the time this article was written, 1 star votes have outnumbered 5 star votes by a margin of 3 to 1 – not a good sign freshly released app. A quick sorting of the reviews to "most recent" shows an even more disturbing trend with 17 out of the first 20 votes rated at 1 frustrated star.
The running theme of these 1 star ratings is clear;
"Random app crashing happens multiple times a day on iPhone 5. I lose my place all of the time."
"It won't let me hear the on demand shows anymore, it shuts off constantly and often loses its position, needs lots of improvement."
"This app crashes more than it works. 2hrs into a 4hr show and it crashes and you have to start it all over again, every day."
It goes on and on, page after page like this.
What's even more frustrating is that the company doesn't seem to have any clue what is causing the issue and with these random crashes leaving no trail behind in the iOS crash log, it seems destined to remain a mystery.
Customer service reps have confirmed that the higher levels of management are aware of the problem and assured subscribers that they will be notified when it has been sorted out. In the meantime, some angry subscribers have been pacified with $50 apology credits made to their accounts.
If you happen to be one of the unlucky, please share your story in the comments below. Maybe we can put our heads together, figure out the common denominator, and finally kill this bug from hell before I lose what little hair I have left.