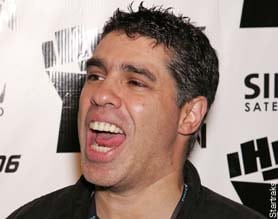 Baba Booey!  It is hard to believe, but the term made famous on the Howard Stern Show is now 25 years old.  Has that much time really passed?  Wow!  Howard Stern and SiriusXM have announced "Booey 25," an extensive special celebrating the 25th anniversary of "Baba Booey." The specials will air on Howard Stern's exclusive SiriusXM channels Howard 100 and Howard 101.
Internationally known as a crowd shout-out at golf tournaments, during TV news live shots, as a tribute to Howard Stern in scripted TV shows, and more, the name "Baba Booey" started as a simple mistake.  In the summer of 1990, on the Howard Stern Show, producer Gary Dell'Abate mis-named cartoon character Baba Looey as "Baba Booey" and has been hilariously taunted for it for 25 years and counting, by Stern, his staff, celebrities and fans.
The radio event will feature audio of the name's first utterance, then 25 years of now-legendary Baba Booey and Gary Dell'Abate moments from the Howard Stern Show.  "Booey 25" will also track the name's infusion into popular culture.
"Booey 25" will air on Howard 101. The broadcasts will also be available through the SiriusXM App on smartphones and other connected devices, as well as online at siriusxm.com. The entire special will be available on SiriusXM On Demand through the SiriusXM App for smartphones and other mobile devices and online at siriusxm.com. For more broadcast info, please visit siriusxm.com and howardstern.com.