For those of you who do not check your app store updates religiously, the new version 2.5 SiriusXM iPhone and iPad app featuring "MySXM" personalization features has been officially released.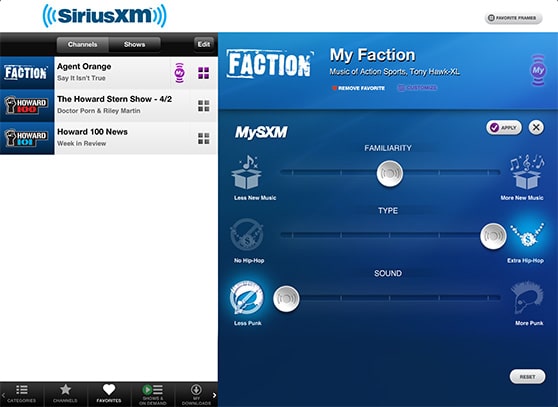 The same great additions web users have been toying with for the past couple of months are now available to all mobile users. For all of you newcomers, this means you'll now have the ability to tailor your favorite music channels to your liking.
In the case of a channel like faction (above) you can chose between hearing more/less new music, no hip-hop/extra, and more/less punk. The obvious beauty of this system is that these controls are are uniquely suited to the genre of music.
To access the feature simply click the customize option, set your preferences, click apply and you're done. These toggle switches (shown below) will allow you to jump from live station programming to your customized settings at any time.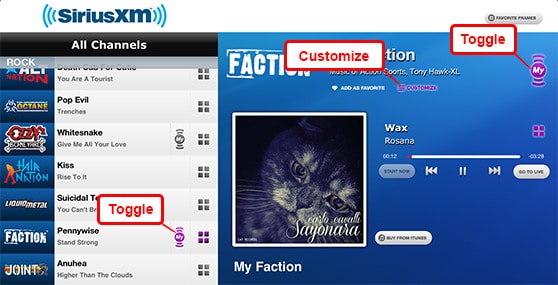 Once in "MySXM" mode, users will also notice the new ability to skip over as many as 5 songs per hour. This means, after you've tweaked your personal options, you only have to like 4 out of every 5 songs played per hour.
As with the web player, this new feature is still only available on a select number of stations so, if you do not see this feature after updating to the latest version, don't panic just send the guys at SiriusXM some feedback requesting it. And if you have a problem logging in, just give it a few minutes —  for some reason the latest version of the app gave me the "checking credentials" screen for a full 10 minutes before it let me in — hopefully this is just a temporary glitch.
Will we see the official SiriusXM app finally break the 3 star rating levels for this first time with these highly anticipated features? I think so. Longtime mobile iOS users will be hard pressed to find any major weaknesses in this latest release. If I'm wrong, please let me know in the comments below, I'm always on the lookout for strange bugs and shortcomings.