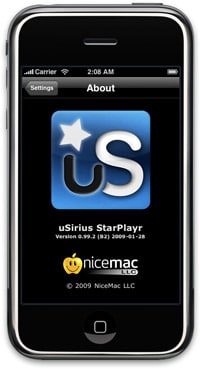 Nicemac LLC has officially submitted uSirius, their Sirius XM streaming iPhone application for review by Apple today. All there is to do now is sit back and wait for this gem of an application, that has been long overdue in the eyes of Sirius XM fans and shareholders alike, to be approved by the powers that be at Apple.
Various reports around the net show the iPhone App Store review process has been taking anywhere from 2 to 4 weeks to approve and officially list new applications. The guys over at Nicemac seem confident with their product and the rigorous testing that has been done but, only time will tell if it makes the cut.
The one time price tag of $12.99 has been confirmed by Nicemac co-founder Todd "Goodtime" Bruss, who notes that all minor upgrades will be free of charge but, any major future upgrades might cost a couple of bucks.
Stayed tuned for continuing coverage as we will do our best to cover the momentous occasion of the official release for all of you iPhone obsessed Sirius XM fans.