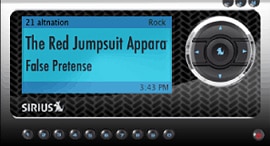 Since the launch of the Sirius Internet stream there are have been a number of options for regular PC users but Mac users have been left in the dark, until now. With the new SiriusMac program, users can now choose from over 80 online Radio stations with an easy to use interface that streams Sirius Radio right to your Mac.
The new 1.1 version boasts artist/song alerts, an interactive online guide, channel presets, and an "auto-jukebox" which lets you spin your favorites songs/artists when available.
I am not a Mac user myself but I know that having to go to the Sirius site, surfing to the "listen online" page, entering my password, and sometimes solving the undecipherable captcha image leaves a lot to be desired. With this sleek new application Mac users will now be able to enjoy some bonus features and bypass a lot of the legwork required to listen to the best radio on radio.