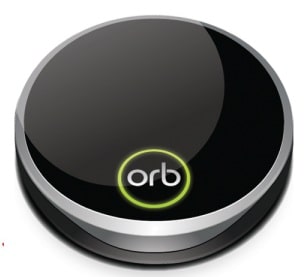 SiriusXM was fairly quiet at the Consumer Electronics Show this year but, that doesn't mean some cool new products related to satellite radio are not kicking around.  In fact, one product in particular, ORB,  comes in at a great price point and offers functionality that SiriusXM subscribers will love.  Have you wanted to stream SiriusXM in your home, but do not want the satellite antenna cable running across your floor?  ORB is your answer!  Would you like the ability to use your iPhone or Android smartphone as a remote control?  ORB is your answer.
The team at TSS-Radio sent over an ORB for some testing and review.  After a quick and easy hook-up I was streaming SiriusXM through my home stereo and controlling the content as well as volume with my smartphone.  The best part was that I was controlling this from anywhere in my home.  Needless to say, I was impressed with the platform, app, and hardware.  What was perhaps more impressive was the price point.
While there are some quality devices out there that allow for streaming, many come with a hefty price tag.  The Logitech Squeezebox and some players from Sonos can cost hundreds of dollars.  In contrast the ORB is just $79.99 at TSS-Radio!  For under $100 you can stream SiriusXM Internet Radio through your home system with relative ease AND use your smartphone to control it all!
How It Works
Orb Music connects to any stereo and transforms it into a wireless, internet device! With Orb's AllPlay, stream straight from your phone to your Stereo – SiriusXM, Pandora Radio or content that's stored on your phone. But it doesn't end there. You can also wirelessly stream your entire music collection stored on your PC / Home Network to any Orb-enabled stereo. All controlled using your smartphone or tablet.
Setup is simple. First, you add Orb Muisc to your WiFi home network by plugging it into your PC and following a short Setup Wizard. Then unplug Orb Music from your PC and connect it to the stereo of your choice – powered speakers, portable music player or even your Home Theater system. Anything with an input jack will work.
The final step is to download Orb Controller from Apple's App Store or the Android Marketplace. Using this app, pick which Orb Music you want to stream to (you can have as many as you like), then pick the music you want to listen to. Choose from music that's on your device (phone/tablet), music services (SiriusXM Internet Radio, Pandora Radio, LastFM, Vevo, internet radio stations) or browse through your entire iTunes collection on your computer or home network.
It is really That simple!
If you are a SiriusXM fan a product like ORB is a solution you have been seeking.  Does that new Samsung television offer scores of apps but lack SiriusXM?  Don't drive yourself crazy.  The ORB was designed for ease of use and because the smartphone becomes your remote control, it is a breeze finding and changing channels.  The ORB eliminates confusion and endless menus that you need to otherwise surf through on a television or stereo remote.
Readers can order ORB from TSS-Radio, our site sponsor.  At a price point of $79.99 you can't go wrong!  I was so impressed with the ORB that SiriusBuzz will throw in a promotion as well.  If you are a SiriusBuzz Premium member you can get a $10 rebate directly from SiriusBuzz!  Simply purchase an ORB from TSS-Radio between now and January 31, 2013,  email a copy of your receipt to [email protected] and I will send you $10.  The SiriusBuzz rebate is not affiliated with TSS-Radio but rather a way for SiriusBuzz Premium members to get some value added benefit as a thank you for joining.