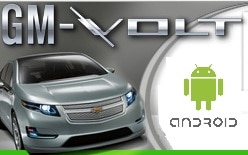 As satellite radio subscribers await the release of the Sirius XM Android app, some new news surrounding the Android platform has been released that could bode well for Sirius XM. General Motors will be releasing their new Volt car this year, and the combination of OnStar and Google's Android platform sounds quite promising. GM has already indicated that their relationship with Google will grow beyond the Volt.
The digital dashboard has become the next battleground in the OEM channel. Ford has a deal with Microsoft for the Sync system. Apple iPod/iPhone/iPad connectivity is gaining ground with a Hyundai deal, and now GM has bedded with Google. So far it seems that Blackberry has been lost in the shuffle. Sirius and XM carry an advantage in the dashboard with existing deals that put satellite radio into about 60% of the cars manufactured. Integrating satellite radio further into an evolving digital dashboard will be a key mission for Sirius XM, but the task may not be as daunting as before.
Sirius XM already has an app that works with the Apple line, and an android app is anticipated any day now. The more cars that are equipped with Apple and Google based systems, the better it can be for Sirius XM. With that type of integration, even cars that are manufactured without a satellite radio can potentially become satellite radio equipped via apps that the consumers themselves can install. The beauty is that these types of subscribers would be free of revenue share with the OEM. Of course this will still take quite some time to play out. Initially the Apple, Android, and Microsoft based systems will not have heavy penetration, but for Sirius XM, the key is to maintain a presence, and be there when the dashboards evolve. Sirius XM needs to stay ahead of the curve to stave off other audio entertainment that will now be easier to use in the car.
Investors in satellite radio should follow the evolution of the digital dashboard, and how Sirius XM integrates further into it.
Position - Lon Sirius XM Radio, No Position Apple, Microsoft, Google, OEM's