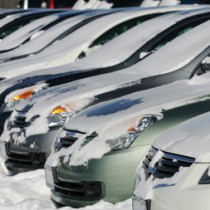 So far 2014 has not been too impressive when it comes to growth in the auto sector.  In fact, we are just two months into the year and thus far both have come up short when it comes to auto sales vs. the respective months in 2013.  Yes, it has been a tough winter.  Yes, selling days may differ.  Yes, we could not expect growth forever.  However, 2014 was anticipated to be another growth year for the auto sector, with peak sales coming in 2015 or 2016.
For satellite radio investors, we saw SiriusXM already offer subscriber guidance that was lighter than last year, so a slower pace in auto sales is not very helpful.  While the raw numbers are enough to demonstrate positive subscriber numbers, the growth that we hope to see this year is going to have to come from higher prices, more efficient business, cost cutting, additional penetration, and a strong contribution from the used car market.  The all important auto sales growth that SiriusXM investors have grown to love over the last couple of years is drying up.
No, it is not doom and gloom.  It is however something to monitor and keep track of.  In 2013 there were 15.5 million cars sold.  The hope was to see 2014 bring in sales of 16 million or more.  So far, this year auto sales stand at 2,199,613.  That is about 33,000 less than January and February of last year.