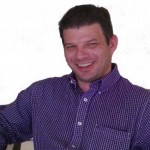 It is amazing how varied the opinions about audio entertainment are, and how passionate some of those opinions can be. In recent news it was announced that Internet radio provider Pandora was weighing the option of going public. Here at SiriusBuzz we covered that news and there was an instant smattering of discussion and yes, even some hate mail!
In looking at the audio entertainment sector it is important to separate the investment from the service. This discussion is not about which is a better investment, which will show more growth, and which will spend and/or make more money. Instead this is a discussion about what the services offer to consumers and how widely accepted these service are in general. Set the financial aspects aside and look at the services for what they are. The fact of the matter is that these services EXIST and will continue to EXIST.
Sirius XM has some distinct advantages which I laid out in recent article. Among those advantages were content superiority and the distribution platform. That being said services like Pandora have advantages as well. This article will lay out the pluses and minuses of each service so that, as investors, you can understand these services from a consumer perspective. After all, if consumers are not happy, how can a company succeed?
REACH
Reach on the Internet is defined as the percent of global internet users who visit a particular site. The higher your reach, the bigger your piece of the Internet pie. Among Internet radio providers, including Sirius XM Internet Radio, Pandora is on top of the charts by a wide margin according to Alexa.com. In fact, in terms of traffic, Pandora ranks as the 59th most popular website in the United States, and 359th in the world! Those are not numbers to scoff at (click chart to enlarge). In fact, numbers like these are quite impressive. In contrast Sirius.com holds a U.S. ranking of 884 and a global ranking of 4,185. XM's site carries ranks of 1,736 and 8,545 respectively. This statistic may have some wondering what Pandora is doing right! The answer is many things. To give you some perspective, SiriusBuzz is currently the most viewed satellite radio news site. Our U.S. traffic rank is 28,648 and our global ranking is 139,189. This modest site has popularity, but is nowhere near the likes of Pandora or Sirius XM.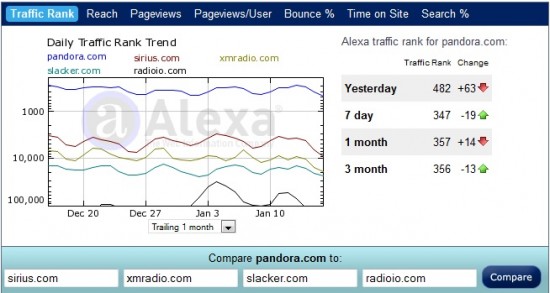 Simply stated, Pandora has reach with consumers. People visit the site in droves. Pandora with some 70 million accounts opened is the king of Internet radio. There is no doubt about that! The Internet platform is not Sirius XM's to lose, it is instead Sirius XM's to take. Given what Sirius XM has to offer in terms of content could we see such a move in the near future? Time will tell.
PRICE
It has been bandied about for quite some time that Pandora is free. The same holds true for Slacker. The fact of the matter is that the free versions offer limitations and most users, if they like the service, will upgrade to paid subscriptions with more benefit. Think of it as something similar to Sirius XM's free Internet Radio test drive. The free aspect of all of these services is designed to get you to fall in love with the service and become a paid subscriber.
For those that already have Sirius XM Satellite Radio the Internet radio streaming add on is only $2.99 per month, or roughly $36 per year on top of about $150 per annum for the satellite feed. Want Sirius XM Internet Radio only? Be prepared to pony up $12.95 per month. Pandora's premium tier, called Pandora One, is $36 per year and now that you can stream it to dashboards in A2DP bluetooth equipped cars, it represents a tremendous value for consumers. The big question is whether or not Sirius XM's talk sports and news content (one distinguishing factor between the services) is worth while (as a $2.99 charge for existing subscribers or a $12.95 charge for Internet only subscribers) over the channel customization and mostly music content offered by Pandora.
Another consideration in pricing is what it will cost you to listen when streaming Internet radio over your cell phone. Slacker, another Internet Radio platform, has an interesting solution called station caching. You can easily program your phone to cache new content into your channels via Wi-Fi when you are at home or at the office. This solution provides the consumer with fresh and new content daily while playing from memory rather than gobbling up data time. Slacker is a bit more expensive at about $50 per year, but the caching feature is a nifty one that makes the added cost worth while. Go premium on Slacker and you can get ABC News as a bonus!
Radioio, the service Bubba The Love Sponge went to went to costs about $50 per year for 128kbs sound, and offers live content such as the Bubba The Love Sponge show. The live aspect is a new and upcoming technology that could well be matched by other Internet radio services making the content gap narrower. Are you an audiophile? Radioio even offers their ultra-pure sounding 192kbs service for about $100 per year.
AVAILABILITY
Satellite delivery has distinct advantages while streaming audio content on a cell is not yet a perfect solution. Depending on where you live, cell coverage can range anywhere from fantastic to spotty. This problem will not be solved overnight, but technology is constantly improving as are network speeds. That "buffering…buffering…buffering" mantra some satellite radio fans cast out as a negative against Internet radio simply does not happen in most cases. If you are experiencing buffering all of the time you need to graduate from your dial-up internet connection.
The automobile dashboard used to be home to AM, FM, HD, Sirius XM, and CD's. iPod integration was next, and now smart phone integration is here. The ever evolving dashboard has allowed services such as Slacker, Pandora, and Radioio to take their wares to consumers in the car. It has oft been said that most radio listening happens in the car and that the OEM channel was the holy grail that Sirius XM possessed. With OEM's now making smarter dashboards, these Internet radio company's are now infiltrating onto Sirius XM's home turf.
Within the next two years Internet Radio could well enjoy an OEM penetration that took Sirius XM hundreds of millions of dollars and 10 years to reach. All of this thanks to smart phones, smart dashboards, and A2DP bluetooth technology! While this may not seem "fair", it is the dynamic we are dealing with. In the end, these leaps in technology are good for the consumer.
CUSTOMIZATION
Let me preface this by saying I am a huge fan and regular user of Sirius XM. I was among the first 50,000 to subscriber to Sirius and shortly thereafter became a subscriber to XM as well. I also use my iPod quite a bit and regularly tune into Slacker (which I prefer over Pandora). While I enjoy the selection and content on Sirius XM, I also like to jam to a song right now (iPod) and the customization offered by Slacker . If I like Jason Aldean I can type his name into Slacker and a channel is created that offers tons of Aldean as well as similar artists. If I get to a song I don't like and I can skip it. Sirius XM Satellite as well as Sirius XM Internet Radio does not offer this skipping feature as yet, and it is the lack of such a feature that sometimes has me tuning away from the satellite radio service.
Lets face it, as well programmed as Sirius XM is, there are times you simply want to skip a song. You can't. Personally, my solution is an XM SkyDock. It allows me to dock my iPod, listen to XM, listen to my iTunes library, and listen to cached music from Slacker. If Pandora suits my fancy, I can stream that through my smart phone in newer cars equipped with A2DP Bluetooth technology. The SkyDock affords me the best of everything in audio content.
The bottom line is that it is quite obvious that people become fans of these services for a reason. Whether it is brand awareness, peers, or the offerings of the service, people come in droves. What Sirius Xm needs to do is bolster their Internet offering to mimic some of the attributes of customization. What Pandora needs to do is allow for caching, and bring on live content like Radioio. What Slacker needs is better exposure, and what Radioio needs is more awareness. Not a single one of these services has demonstrated that they are the "best all around" in every category. There simply is not a defined winner. The one most capable of offering the best attributes of all services is Sirius XM. Whether or not they will do it is another story.
Position – Long Sirius XM Satellite Radio