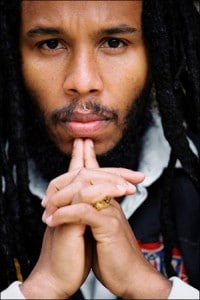 Sirius XM is taking its unique Town Hall format on the road!  That's right, instead of carrying the event in New York City, the satellite radio provider will be conducting its latest Town Hall from Los Angeles.  Sirius XM Radio (NASDAQ: SIRI) has announced that Ziggy Marley will sit down for an exclusive, live Q&A session with an audience of Sirius XM listeners at The Village Studios in Los Angeles, California on August 9th at 9:00 PM ET. "SiriusXM's Town Hall with Ziggy Marley" will air live on "The Joint," Sirius channel 42 and will be hosted by Pat McKay.
Sirius XM's "Town Hall" series creates intimate gatherings with iconic musicians and studio audiences of Sirius XM listeners. Previous "SiriusXM Town Hall" specials have featured Bruce Springsteen, Tom Petty, Coldplay, Ringo Starr, Roger Waters, Renee Fleming, Gregg Allman, Usher, Ronnie Dunn and the surviving members of Nirvana.
This  "Town Hall" promises to be special as it features the actor, artist, activist, and host of Sirius XM's Ziggy Marley's Legends of Reggae answering a variety of questions from the studio audience about his most recent album, Wild and Free, and the August 7th DVD and Blu-ray release of the critically-acclaimed documentary about his legendary father, MARLEY.  As an added bonus this "Town Hall" will feature a live, in-studio performance by Marley.
"Ziggy is one of the world's foremost reggae artists and an integral part of SiriusXM's reggae family, and we look forward to the extended discussion between Ziggy and fans about reggae music and his family's involvement in this evolving and enduring international music genre," – Scott Greenstein, President and Chief Content Officer, Sirius XM.
Ziggy Marley already hosts Ziggy Marley's Legends of Reggae, the monthly show on "The Joint", which  features Marley sharing his unique perspective on music and culture while introducing listeners to his favorite reggae music and sources of inspiration (with some rarities), plucked from his own personal collection.
Ziggy Marley's Legends of Reggae airs the first Saturday of every month on The Joint at 12:00 pm ET. The Joint plays reggae music from its roots to today from artists like Bob Marley & the Wailers, Gregory Isaacs, Jimmy Cliff, Burning Spear, Vybz Kartel, Capleton, Dennis Brown, Mr. Vegas, Sizzla, Beres Hammond and Jah Cure. The Joint also features Marley Monday, the weekly tribute special to Bob Marley.