Howard Stern and SiriusXM invite you, wherever you are in the world, to listen to Howard Stern's Birthday Bash special for free, starting today at 4pm ET. The show will kick off with a two hour pre show red carpet event full of interviews, followed by the main even hosted by Jimmy Kimmel starting at 6pm.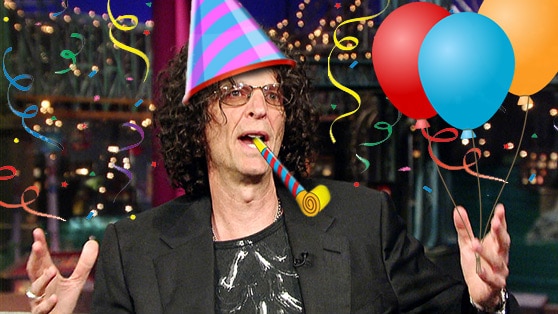 This free access to the otherwise typical members only pay satellite service is a first for SiriusXM. All non-subscriber listeners will need to do is visit siriusxm.com and simply click to listen – no forms, credit cards, or jumping through hoops. If you need a reminder, SiriusXM will even shoot you a text 15 minutes before the show starts — no excuses!
"I am honored by the number of performers who want to join me on stage, and the number of fans who want to get in," said Howard Stern.
With guests like  Louis C.K., David Letterman and Sarah Silverman, and musical performances by Jon Bon Jovi, John Fogerty, Steven Tyler and many more unnamed others, it's no wonder fans of the Howard have been calling in offering to cut off body parts to get into the show, reserved for a very limited 1500 guests.
The idea of bringing old fans back to the show is a welcomed move by SiriusXM but, as someone who has listened to these live events over the years, one has to wonder if the King of All Media is really putting his best foot forward with what will inevitably be a show nothing like the one he puts on live Monday through Wednesday. Maybe I shouldn't complain about a free lunch.