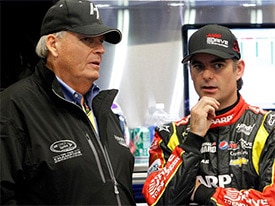 If you enjoy listening to guys who know what they're talking about when it comes to turning left at a high rate of speed, you'll want to tune into NASCAR Radio (ch. 90) tomorrow, February 21st at 8PM EST when Jeff Gordon and Rick Hendrick sit down with the fans of SiriusXM.
This "Town Hall" event featuring the four-time Sprint Cup Series Champion will take place at Daytona Speedway, feature questions from the studio audience, and will be moderated by Gordon's former crew chief, Ray Evernham.
"Interacting with the fans there will be a fun experience, and I think the 'Town Hall' format will bring out a lot of great stories.  I'm grateful to SiriusXM for the invitation and excited to do something like this with Jeff and Ray," said Rick Hendrick.
When Gordon was asked this thoughts on the friendly, laid back, radio special he replied by saying, "I'm actually a bit concerned, too.  Those two know way too much about me!" Hopefully it gets interesting because there's only so much you can say about driving around in circles for 20+ years.
The event will also feature rebroadcasts Friday 2/22 5am ET, Saturday 2/23 6pm ET, and Tuesday 2/26 11pm ET with the show available OnDemand after the live broadcast.