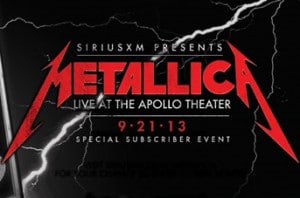 If you're a fan of metal, Saturday night is the night. Set a reminder on your phone, an alert on your radio, or tie a string around your finger if you have to because Metallica will be performing live, September 21st at 8:30 ET, from the famous Apollo Theater on Mandatory Metallica, channel 111.
"With historic performances from James Brown to B.B. King to Ray Charles and all that came before us, this will definitely be a memorable night for Metallica, our fans and those listening on SiriusXM," said guitarist Kirk Hammett. Bassist Robert Trujillo added, "With its rich musical history the Apollo Theater and its legacy are totally unparalleled and we can't wait to perform…"
If you can't tune in tomorrow, there is no word on a replay as of yet but, if there is a metal God, you should be able to catch this show onDemand on the SiriusXM app or online.
The limited run Mandatory Metallica channel featuring hits, rarities and concert recordings from the band's 30 year career, will air through Sunday, October 6, after that it will continue to run online on Ch. 714 through the summer of 2014.