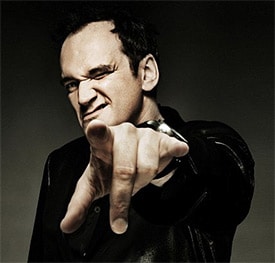 Award winning filmmaker Quentin Tarantino is the next big star to hop on the "Town Hall" promotion  train and sit down with SiriusXM subscribers for an intimate conversation about is life and, of course, his new movie Django Unchained.
The violence loving Tarantino will field questions in front of a live studio audience today at 6pm ET on SiriusXM Stars Too (ch. 104) with encore presentations at December 5th at 8pm, December 6th at 6am and 8pm, and December 7th at 11pm (all times ET). As always, this special will also be available for subscribers with access to On Demand as well.
If Quentin's previous interviews with Howard Stern and Playboy magazine are any measure of his personality and willingness to mix it up, this special should not disappoint. We're talking about the guy who directed Pulp Fiction, Reservoir Dogs, Jackie Brown, Inglourious Basterds AND smoked hash out of a coke can with Brad Pitt… it should be fun.