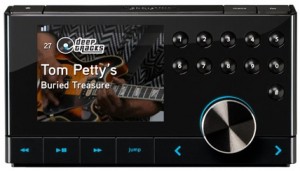 It has been quite some time since we have had our hands on a new retail satellite radio.  Sirius XM had not developed anything new and exciting in almost two years, and it was beginning to look like 2011 would be another ho-hum year on the news front of compelling new hardware.  We recently got a hands on look at Sirius XM's new Edge radio thanks to one of our site sponsors, TSS-Radio.
Sirius XM's Edge gives consumers a brand new look with the many of the capabilities that were once reserved for more expensive units.  With the Edge Sirius XM has delivered a highly capable radio at a price point consumers can handle with relative ease.  It is a great solution for most any user that is seeking a newer radio, cleaner look, or more capability.  In this simple yet capable radio Sirius XM has hit a virtual home run.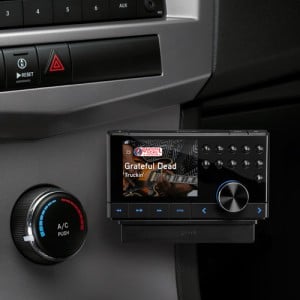 The Edge is a great combination of form and function.  The user is not overwhelmed with buttons and control interfaces.  Instead we see simple 0-9 inputs, play, pause, rewind buttons, a function knob, and category shifters.  The user interface is intuitive and figuring out how to navigate Sirius XM's 150 channels is something even a five year old could do.  Simply stated, it is a joy to be able to see an easy to use radio that still carries a range of capabilities.  The Edge is worth a consideration because of all that is being offered on top of the new channels.
Features Include:
Enjoy SiriusXM's Xtra channels – a number of additional comedy and music channels as well as SiriusXM Latino, a set of dedicated Latin music, sports and talk channels.
Pause, rewind and replay up to 30 minutes of live satellite radio.
View artist name, song title, and channel information on the large color graphic display.
Listen at home, at the office, outdoors or in multiple vehicles with optional accessory kits – all with just one subscription.
Hear SiriusXM through your existing vehicle radio with easy, do-it-yourself installation.
Browse other channels while listening to the current one.
Store up to 10 of your favorite channels for one-touch access.
Lock and unlock channels with mature content using easy-to-use parental control.
Optimize PowerConnect™ performance with easy FM tuning.
One-Touch Jump™ to traffic and weather for the city of your choice, or back to your previous channel.
Includes PowerConnect™ Vehicle Kit.
Works on the XM network.
The presentation of this product, like most other Sirius XM products, was well thought out.  The radio, cables, antenna, and instruction manual are all well displayed inside a compact box that allows the consumer to see each component and understand what each item does.  Self installation should be a breeze for almost any consumer, with the most difficult aspect being the antenna placement and getting the antenna wire to the receiver.  The included car dock has all of the necessary inputs located in such a way as to allow for a clean looking installation even by the most technically challenged people.
The high points of this radio include the added channels, the big color screen, the easy to navigate menus, and PowerConnect, a feature that allows the Edge to be used with several Sirius XM accessories including home kits and speaker boxes.  The Sirius XM Edge is a great solution that makes an upgrade from your older radio worth while.  With the price point of just over $100 after rebate, it is a no brainer for almost anyone who simply wants a fresher and cleaner look in their dashboard.
I have been a huge satellite radio fan for years, and despite that fact I have never carried a factory installed subscription longer than the promotional period.  I have simply preferred the added capabilities offered by the retail radios.  For the last three years I have enjoyed the XM SkyDock used in conjunction with my iPod or iPhone.  Using the Edge over the past week has almost made me consider switching away from the SkyDock.  Yes, the Edge is THAT GOOD!  I will actually miss this demo unit when I send it back to TSS-Radio.
The beauty of the Sirius XM Edge is that it can be as simple as you want it to be right out of the box, yet can be customized to meet deeper needs if desired.  Brightness level, audio level, and features such as favorite channels are great add-ons that many consumers want.  With the Edge, you can literally plug it in and go, as the factory settings are already great for the average user.
TSS-Radio has the Edge and all Sirius XM accessories in stock , and even offers a few things those big box stores can not match.  For example, TSS gives the consumer the choice of a vehicle kit or home kit, making the flexibility even greater.  With free shipping, TSS-Radio has all of your satellite radio needs covered.
I Give Edge a Thumbs up!