The new Eton ES101 apparently will not make it to the market…at least not yet. This nifty little unit which was slated to be capable of AM, FM, Sirius, would have also come standard with an i-Pod dock. It was supposed to hit retail shelves this summer, but last week, the information regarding the unit, and even photos were taken down from the Eton site. The ES101 was scheduled to utilize Sirius' Direct Connect was supposed to retail for $200.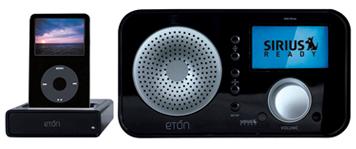 Key Features Were To Include: AM/FM Radio, Sirius Direct Connect, 20 AM presets and 20 FM presets, Auto Station (locks onto strongest signal), Auto Tune (provides a programmed service list), and Digital Text to provide information about the tuned station.
Sirius and Eton began their relationship in late 2005. Since that time, Sirius has shifted mainly to self branded units distributed by Directed Electronics. In 2006 Directed acquired Eton competitor Polk Audio. At this point hotlinks for Sirius on the Eton website lead nowhere, and any mention of ES101 is no longer available. It is unclear whether the unit was scrapped altogether, or it was put on the shelf for a later date. With the merger in full swing, Eton and Sirius may have made a business decision to simply hold off on retail production for the time being.
Position – Long Sirius, Long XM, No Position Directed