In an unexpected move, Sirius XM Radio (NASDAQ: SIRI) has announced that it has added The Nick & Artie Show, hosted by comedians Artie Lange and Nick DiPaolo to its sports talk lineup.  The show will be available to Sirius XM listeners daily on Sirius channel 94 and XM channel 208 starting July 19.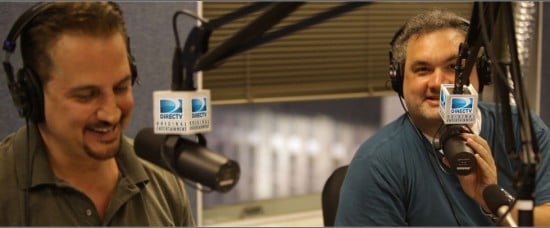 Artie Lange was a popular personality on Sirius XM's Howard Stern Show until meltdowns, drug abuse, and an attempted suicide forced the company and Stern to make the difficult decision of removing Artie from the air.  Since that day the "Artie Chair" inside the Stern studio has remained empty.  As Artie's recovery progressed there was some speculation that he could return to the Stern show, but Howard has oft been quoted as saying a return would not happen.
The Nick & Artie Show will air at a more "Artie friendly" time slot, weeknights 10 pm – 1 am ET and feature the two comedians teaming up for a comically irreverent and unfiltered approach to sports talk.
For those who don't know, Nick is a regular on Comedy Central and has been featured on The Howard Stern Show, The Opie & Anthony Show and numerous late night talk shows including The Tonight Show with Jay Leno and the Late Show with David Letterman.  He was twice nominated for an Emmy for his writing on The Chris Rock Show.
Lange and DiPaolo will make their SiriusXM debut on July 19th with a special show in front of a live audience at the Hard Rock Cafe in New York's Times Square.  The duo will host from 8 – 10 am ET to kickoff Sirius XM's annual Celebrity Fantasy Football Draft at the Hard Rock.  This marks the first time the show will be available to all Sirius XM listeners.
In an interesting note, The Nick & Artie Show is produced and syndicated by DIRECTV (NASDAQ:DTV) Entertainment/LABC Radio Group.