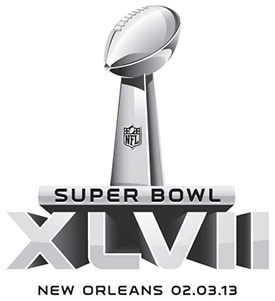 Thanks to SiriusXM, one lucky subscriber will receive round trip air transportation, four nights in a hotel, and two tickets to Super Bowl XLVII. There is only one catch, if you want to call it that — you have to have been a subscriber of Sirius or XM prior to December 1st 2012 to enter.
That means your odds of winning the estimated $4,500 package, if every subscriber entered, would be around 1 in 24 million but, I think it's safe to say, not every subscriber will be signing up because they haven't even heard about it but, you have!
Are you likely to win? Probably not but, somebody has to! And your odds of winning are sure as hell going to be better than a random contest open to the general public.
It's time to make that SiriusXM subscription really pay off, enter today, and make sure you stop by to say thanks if you win – it probably would have be me in those seats if I hadn't taken the time to tell you all about it – you're welcome. Contest ends this Friday at noon so don't delay.