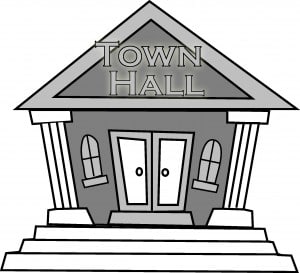 This is something that I have been eager to see — SiriusXM has launched Town Hall Radio!  The company started the unique, entertaining, and informative series quite some time ago and it has been widely successful.  The essence of the Town Hall Radio was to get artists into an intimate setting to be interviewed and play some tracks from their catalog of music or discuss the inner workings of their career.   Typical studio audiences typically range from 20 to 50 subscribers lucky enough to be selected to participate.  The Town Hall series offers up insight which is simply not found anywhere else.
One of my criticisms of Town Hall Radio was that it did not have a dedicated channel.  Often the news of a new Town Hall feature occurred only a couple of days prior to the event , and if the channel it was being aired on was not among the usual channels listened to by a consumer, some great content might be missed.  In my mind the solution was a dedicated channel that could air the live Town Hall events and then replay past Town Hall interviews as well — my wish has come true.
"Town Hall Radio," launched on Monday, January 14th on channel 142 with a special presentation of SiriusXM's first ever Town Hall with Bruce Springsteen. The show was recorded live in the SiriusXM studios, originally aired on Bruce Springsteen's SiriusXM channel, E Street Radio, in November, 2010.
The limited-run channel will include the entire archive, including specials with Aerosmith, Jason Aldean, Gregg Allman,Carol Burnett, David Chase, James Gandolfini and Steven Van Zandt, Coach K, Coldplay, Crosby, Stills and Nash, Billy Crystal, Cardinal Timothy Dolan, Ronnie Dunn, Renee Fleming, Jane Fonda, Roger Goodell, Tony Hawk, Alicia Keys, KISS, Ziggy Marley, Willie Nelson, the surviving members of Nirvana, Linkin Park, Tom Petty, Soundgarden, Ringo Starr, Oliver Stone, Taylor Swift, Quentin Tarantino, John Travolta and Olivia Newton-John, Usher, Roger Waters, Betty White and Henry Winkler.
"We are excited to present this special limited-run channel that captures the fun, spontaneity and uniqueness of our 'Town Hall' series—where the biggest stars meet their biggest fans. 'Town Hall Radio' will offer our listeners the biggest and best of our 'Town Hall' series in one place," said Scott Greenstein, President and Chief Content Officer, SiriusXM.
My hope is that the limited run status of this channel will be made permanent, across the board, at a minimum I would like to see station remain a fixture on SiriusXM Internet Radio.  The channel makes sense, and is a value added proposition for consumers.  It fits right in with SiriusXM's On Demand side of the business and would be a natural for the personalized radio service that should launch soon.
In the meantime listeners can enjoy some of the most compelling interviews of music stars on SiriusXM Town Hall Radio channel 142.