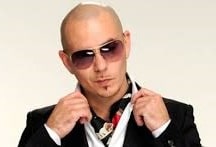 SiriusXM announced today it has joined forces with global music superstar Pitbull to create a channel featuring music by the international pop star as well as his personal musical selections.  The move is the latest in a series of exclusive content offerings that the satellite radio platform uses to differentiate itself from its competitors.  The new channel will be curated by Pitbull and will feature music from across multiple genres exclusively for SiriusXM listeners.  In addition, the channel will be anchored by a weekly show hosted by Pitbull himself.  If you have not figured it out yet, the channel will feature a lot of Pitbull's own music.  Pitbull's channel is scheduled to debut in early 2015.
"We are thrilled to team up with Pitbull in the creation of this exciting new music channel that will reach his massive audience.  Pitbull is truly 'Mr. Worldwide,' and his music and collaborations have drawn legions of fans who will now have access to a full-time channel that he is creating especially for them," said Scott Greenstein, President and Chief Content Officer, SiriusXM.  "Pitbull will bring the excitement and energy of his live appearances to the channel, only on SiriusXM."

"First of all, I want to thank SiriusXM for the opportunity to touch my fans in a more personal way," said Pitbull (Armando Christian Perez). "I will also get a chance to play all the music that I love and grew up listening – most of all, we are going to have a lot of fun in the process – so, preparense [get ready] y daleeeeee."
Armando Christian Perez aka Pitbull is a musician, performer, entrepreneur, and actor with career sales in excess of 5 million albums and over 60 million singles worldwide.  Pitbull has had #1 hits in more than 15 countries, his videos have over 5 billion views and his social reach exceeds 78 million followers.  His latest album, Global Warming: Meltdown features the hit singles "Feel This Moment" with Christina Aguilera, "Don't Stop The Party," "Back In Time" and his second #1 hit on the Billboard Hot 100 chart "Timber" featuring Ke$ha.  Pitbull's world tours have sold out concerts in North and South America, Europe, and the Far East.  Recently, Pitbull performed the official anthem "We Are One (Ole Ola)" with Jennifer Lopez and Claudia Leitte at the opening ceremony of the FIFA World Cup in Brazil.  A burgeoning entrepreneur, Pitbull has his own line of premium vodkas (Voli); partnerships with Playboy Enterprises and Sheets, the dissolvable energy strip; and, premier fragrances for men and women.  He recently confirmed a fall co-headline U.S./Canada arena tour with Enrique Iglesias.