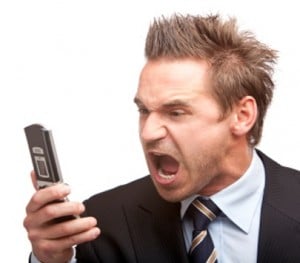 It is a wonderful concept that demonstrates the distinct advantages Sirius XM (NASDAQ:SIRI) has in the content landscape as competitors such as Pandora (NYSE:P) try to increase their presence in the world of audio entertainment. Sirius XM announced today that their Raw Dog Comedy Channel will feature a brand new show called "The Phone Show".
The Phone Show promises to be a radio version of reality television, where listeners an will get an uncensored platform to say whatever they want. The show will invite listeners to be featured live on Sirius XM's Raw Dog Comedy channel, where the mission is to entertain or be hung up on. Hosted by Raw Dog Comedy's Steve Sturniolo, who will play a "Simon Cowell" type role, "The Phone Show" will launch with a special week-long premiere event Monday, June 20 to Friday, June 24.
Millions of Listeners, One Phone: One Winner Chosen on SiriusXM's "The Phone Show."
SiriusXM flagship comedy channel Raw Dog Comedy puts no limits on listeners other than to be entertaining. The brave will call, the best will shine and the boring will be hung up on.
From political rants and expletive-filled complaints to jokes, songs, or a description of that day's breakfast, there is no limit to what callers can talk about on "The Phone Show" but they will be cut off the second Sturniolo finds the conversation boring.
This should deliver some pretty compelling and interesting radio that will have listeners tuned in simply to hear what people will come up with next. One major part of radio being radio is a connection with the audience. This is somewhat lost on many of the music channels (and non-existent on services like Pandora), but the talk side of Sirius XM has always maintained a connection that keeps listeners coming back. In my mind this is perhaps one of the most compelling content decisions in recent memory, and the best part is that Sirius XM will be getting this content FREE!
"With a tip of the hat to Speakers' Corner in London and a dash of Chuck Barris, 'The Phone Show' will be part soap box, part train wreck, part circus – and one hour of frenetic user-generated content," said Scott Greenstein, President and Chief Content Officer, SiriusXM. "We are excited to give callers a completely open and uncensored forum to speak their minds, and to hear the good, the bad, the ugly and the great on SiriusXM's 'The Phone Show' – only the brave should apply."
Phone lines will be open during the "practice rounds" of "The Phone Show" from 1:00 –2:00 pm ET beginning Monday, June 20 through Wednesday, June 22 on Raw Dog Comedy, channel 99, for SiriusXM listeners to call in.
On Thursday, June 23, listeners are invited to call in between 1:00 and 2:00 pm ET to compete during "The Phone Show" competition. Callers will be judged on creativity, relevance and entertainment value by "The Phone Show" judges for a chance to win the $5,000 prize. See Official Rules for complete details at siriusxm.com.
"The Phone Show" winner will be announced during the finale of "The Phone Show" after SiriusXM listeners are invited to call in to offer their assessments of the five finalists on Friday, June 24 at 1:00 pm ET.
Listeners are invited to call 877-456-2888 to participate in "The Phone Show."
Position – Long Sirius XM