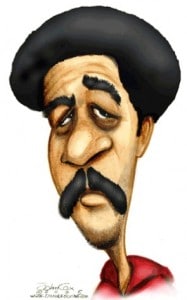 One of the great things about satellite radio is that it uncensored. It isn't a burning desire to hear cursing that makes uncensored great, it is the fact that you can hear unique talk and musical content that is representative of that respective artist rather than some watered down or politically correct version. Satellite Radio is about expression in the purest form. No matter what your taste, you can certainly appreciate the content on Sirius XM.
Another special aspect of satellite radio is that it carries the ability to offer content that traditional radio simply can not match. The latest news is a shining example of what makes satellite radio special. The company recently announced that it will launch "Richard Pryor Radio," a four-day uncensored channel devoted to the legendary comedian's decades of groundbreaking work.
Pryor, a pioneer in comedy, is widely considered one of the most innovative and daring comic talents of our time. He explored controversial issues of racial inequity with great insight, and was not only prolific on stage, but enjoyed a great film career as well . Pryor would have celebrated his 70th birthday this month.
"Richard Pryor Radio" will launch December 30 at 5:00 am ET and will run through 11:59 pm ET on January 2 on SIRIUS channel 108 and XM channel 139. The special run channel will offer listeners the chance to hear Pryor's work in its purest form: raw, unedited and uncensored. The channel will feature hundreds of tracks from live concert performances, stand-up gigs and his seminal comedy albums spanning 1968-1992.
"SIRIUS XM's 'Richard Pryor Radio' is the perfect way to pay tribute to Richard on his 70th birthday," said Jennifer Lee Pryor. "A four-day celebration of his body of work—completely uncensored and available to millions of fans across the country—is exactly what he would have wanted."
"Richard Pryor Radio" is the latest in a long list of specialized content offered by Sirius XM to subscribers. These channels often include musical talent, but Sirius XM is stretching the radio dial further by offering comedy and talk channels as well. These channels really give fans a chance to not only hear a body of work, but to catch some pretty exclusive behind the scenes insight as well.
If you love good comedy be sure to tune in and catch the work of one of comedy's most dynamic performers. The action starts December 30th.
Position – Long Sirius XM Radio