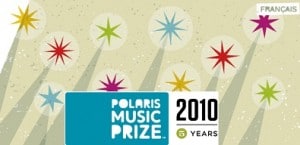 Canada is serious about their music artists, and Canadian musicians have been huge contributors to the music scene over the years. With a spirited music community it stands to reason that Sirius Canada would become involved in the Polaris Music Prize for 2010.
The Polaris Music Prize is a jury award determined by journalists, broadcasters, bloggers and programmers from across Canada. Jury members are selected annually by the Polaris Board of Directors. The Polaris Jury consists of over 200 members from local and national media who display a wide breadth and depth of knowledge of Canadian music and passion for discovering new albums.
All jury members submit a ballot indicating their Top 5 albums of the year; the results form the Polaris Prize Long List and, after a second round of voting, the Polaris Prize Short List. An 11-member Grand Jury is selected each year to convene at the Polaris Awards gala, where they determine the Polaris Prize Winner. To ensure an impartial outcome, no one with direct financial relationships with artists is eligible to become a jury member. The organization itself is a registered, not-for-profit corporation.
The concept of the Polaris Music prize is something similar to panelists used to vote in many Halls of Fame associated with sports. To be nominated for the Polaris Music prize is a huge honor for artists. To be named to the short list and even perhaps win is the pinnacle of the event. The Polaris Music Prize contest offers a great chance for artists and consumers to share their passions, be exposed to some great music, and feel a connection.
The Polaris Music Prize Gala and much more about the event will be broadcast on Sirius' CBC Radio 3.
Position – Long Sirius XM Radio