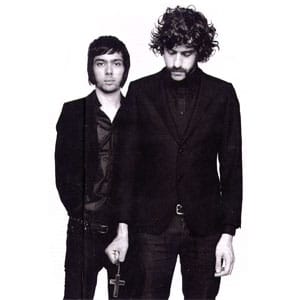 The content offering just keeps getting stronger.  SiriusXM has been going out of its way to bring compelling and unique content to consumers and once again the satellite radio provider is raising the bar!  Justice, the French electro-rock duo,  will perform a live DJ set at the SiriusXM studio on Friday, October 19, before the start of their North American tour. Xavier de Rosnay and Gaspard Auge are the members of Justice and will present a special DJ set featuring tracks from their current LP Audio, Video, Disco on SiriusXM's Electric Area, channel 52 at 7:00 PM.  The DJ set will happen in front of an audience of SiriusXM listeners, so things could get interesting!
"Justice has developed a massive global following since their 2009 Grammy win and their acclaimed work remixing legendary acts like U2, Lenny Kravitz, Britney Spears, N.E.R.D., Fatboy Slim, Daft Punk and MGMT," said Scott Greenstein, President and Chief Content Officer, SiriusXM. "As electronic dance music continues to grow in North America, we have identified Justice as being at the forefront of this exciting international musical movement and are thrilled to be broadcasting their exclusive live, in studio DJ set for a select number of fans and our SiriusXM listeners."
If the timing does not work for you, no worries!  SiriusXM On-Demand has you covered, and you can catch the set any time and anywhere by tuning in through SiriusXM Internet Radio and selecting the show!  Over the past several months, and in fact throughout 2012, SiriusXM has been adding unique and compelling content that has listeners engaged and excited about the service.  Justice on SiriusXM is yet another example of what the potential of radio can be.