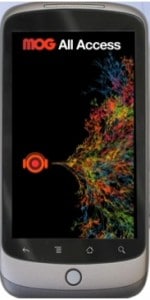 Is MOG in trouble?  That is a  question that CEO David Hyman has been trying to fend off after a recent report by CNET stated that the subscription music service is struggling and looking for a buyer.  According to Billboard Hyman expressed to Reuters that MOG is not "actively" shopping itself, and while the company still operates at a loss, is engaged in the normal course of business.
I guess this all boils down to how we define "actively."  Certainly MOG is discussing options with many companies, but the trick is doing this without word getting out that you are actually for sale.  In this economy there are not many who are seeking to invest in a company that is not profitable or wont be there soon.
In a very competitive audio entertainment landscape there are many companies out there trying to figure out how to market their service, raise money, and also pay substantial royalty fees.  MOG is not alone in that realm.  Perhaps Pandora (NYSE:P) was at the right point in their business growth at the right time and going public allowed a cash infusion that can drive the company over the top and toward profits.
MOG is a pretty awesome service that any music fan would appreciate.  For a subscription fee subscribers get on demand music and can play what they want when they want it.  The problem is that the company has yet to gain the type of traction that others like Sirius XM (NASDAQ:SIRI), Pandora and Spotify have.  Could MOG be the odd man out in all of this?  Only time will tell.
For investors in Sirius XM this news is certainly interesting.  MOG carries the On-Demand capabilities that Sirius XM is hinting toward in 2012.  If Sirius XM can deliver on this side of the business it could enjoy an even more dominating presence in audio entertainment than it enjoys today.
While I do not see MOG falling off of a cliff anytime soon, the hints that MOG is trying to raise capital or shop itself lend credence to the argument that high royalty rates make a viable streaming music service difficult at best.  Ironically Sony and Universal have substantial investments in MOG, and these are some of the very companies that charge the hefty royalty fees.  One thing is certain, audio entertainment can not afford to keep at the current pace forever — something has to give.