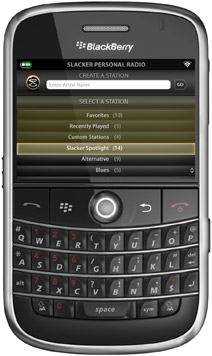 We have written about the ability to get Sirius XM on your Blackberry. The interface is slick and the service gives subscribers yet another option to stay tuned to any of twenty Sirius XM channels. For satellite radio subscribers the migration to the world of cellular has been a long one. Now, offerings from other audio entertainment companies are stepping up to the plate, and doing it in a big way.
I recently downloaded the new Slacker application to my Blackberry, and have been playing around with it for a couple of days. The full review is available on SlackerActive. The advantage Slacker has here is that the full functionality of their service has made it to the Blackberry. Saving songs, banning them, and navigating through the huge selection of music and comedy channels is all there with Slacker's Blackberry application.
This is not "Slacker Lite", it is Slacker... right there on your Blackberry device. Best of all, you can even cache some of your favorite or customized stations to your device, not only saving you data charges, but eliminating some buffering, extending battery life, and taking the worry of cell coverage out of the equation. When you refresh your cached stations you have fresh new content that will keep your ears happy for hours.
It is time for satellite radio to make the next step in their Blackberry arsenal.
Position - Long Sirius XM