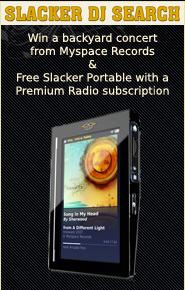 Slacker is getting more active, and their highly anticipated portable units are scheduled to ship at the end of the month. Even without the portable units, Slacker is a great experience for music lovers, and now they are putting their subscribers to the test in search of their next Slacker DJ.
If you are a Slacker listener, it is not to late to submit your personally programmed station for consideration. Here is all you have to do:
1. Create your own personalized radio station on Slacker.com. Slacker will judge the winner based on overall listening experience, creativity in the station description, and original station photo or image.
2. Submit your station. You may enter as many custom stations as you like. Each station will be reviewed and judged separately.
3. Enter by February 13th to win! The grand prize winner will receive one of the world's first Slacker Portable personal radio players and a backyard concert by MySpace Records artist, Sherwood. The winning station will also be featured in the Slacker spotlight section for a week for millions to listen to!
Create It - Submit It - Win...Simple steps that fit the Slacker lifestyle
Slacker is indeed getting active, and while we love to cover Slacker here at Sirius Buzz, and will continue to follow developments. We have a huge announcement to make for Slacker fans. SlackerActive.com will be the place for Active Slackers to get the latest and greatest news surrounding Slacker. Join us on Slacker Active where you can "Go Ahead And Slack...We've Got You Covered".