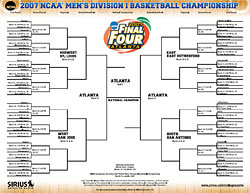 For the third year in a row SIRIUS will be broadcasting the play-by-play of more than 350 pro and college teams, and will be the exclusive satellite radio provider of every game of the 2007 NCAA(R) Division I Men's Basketball Championship.
The games will air on SIRIUS channels 119, 122, 125 and 126. Host Steve Torre will be broadcasting coverage on these channels, providing scores and highlights during game breaks and directing listeners to the other games around the dial.
Check out the Sirius website for your copy of the NCAA tournament bracket with all of the game times and Sirius channel information.