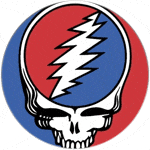 It was announced today that the legendary Grateful Dead would be creating a new 24-hour, commercial free music radio channel dedicated to the music of the band and its band members on Sirius Satellite Radio.
Grateful Dead Radio will be heard exclusively on Sirius and will feature music spanning the band's long and storied career, live performances, bootleg performances, previously unreleased recordings, and even special shows hosted by members of the band. There is no word yet on what channel you will be able to hear all of this on but Sirius is saying that the new channel will launch some time this summer.
"We have fans who've driven hundreds of miles to see us," said Grateful Dead drummer Mickey Hart. "Now you can save on greenhouse gas emissions with Sirius without driving a mile." Way to put that hippie spin on it Mickey, you are a marketing genius!