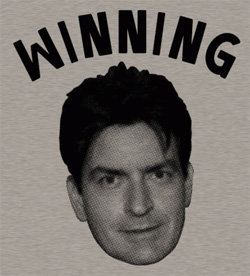 Capitalizing on all of the news that surrounds Charlie Sheen, and on the heals of Charlie calling into the Howard Stern Show, Sirius XM has created a limited run channel titled "Tiger Blood Radio". The name comes from quotes by Charlie expressing that he always carries a WINNING attitude and has tiger blood coursing through his veins.
The channel will run for 24 hours on Sirius (ch 108) and XM (ch 139) on March 5, at 6 a.m, and will certainly be a hit with listeners.
Just in case you have been living under a rock, Charlie Sheen is in the midst of a battle to get back his hit television show Two and a Half Men, which was canceled following his bender a couple of weeks ago. The show was among the most popular on television.
This type of move by Sirius XM demonstrates the ability of the company to have the flexibility, resources, and platform to act quickly and produce such a channel. It is one of the many advantages Sirius XM has over competitors such as terrestrial radio and Internet radio.
Press Release Source: Sirius XM Radio On Friday March 4, 2011, 11:29 am
Sirius XM Radio today announced that it has created "Tiger Blood Radio," a 24-hour limited run channel that will explore the breaking news, facts, fallout and career implications of the Charlie Sheen controversy. "Tiger Blood Radio" will air from March 5 at 6:00 am ET to March 6 at 6:00 am ET on Sirius channel 108 and XM channel 139.
"Tiger Blood Radio" was created in response to the national conversation sparked by the recent events surrounding actor Charlie Sheen.
"Tiger Blood Radio" will take listeners behind the headlines, exploring the media frenzy/media reaction, as well as the medical, psychological, psychiatric and pop culture and celebrity angles. Additionally, through a recap of news coverage, it will offer a timeline of recent events.
During the exclusive, limited run channel, SiriusXM listeners will hear archival Playboy Radio clips featuring "Goddess"/current live-in girlfriend Bree Olson, a Playboy Radio contributor. In addition, Sheen's ex-fiancee/Spice Radio host Ginger Lynn shares stories of her relationship with him on Tiffany Granath's Playboy Radio show; and adult film star Kacey Jordan talks to Playboy Radio's Night Calls about her times with Sheen.
Position - Long Sirius XM Radio