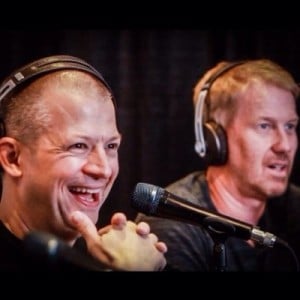 The waiting is over and Opie and Jim Norton have announced that the pair will remain at SiriusXM.  The news came out with a bit of confusion for some listeners because of the difference in meaning of "resign" and "re-sign".  The duo re-signed.  The moment is somewhat bittersweet in that it means that Opie and Jim Norton will not be reunited with long-time but fired partner Anthony Cumia.
Details of the new contract are not widely available, but on the "Opie With Jim Norton Show" both hosts stated that they got what could be determined as "modest" raises.  Jim Norton did not receive "Anthony Cumia" money.  It was also announced that the pair will do "some Fridays."  Ron Bennington, who's show with Fez moved from the Opie & Anthony channel to a comedy channel will host some of the Friday shows.
Fans are split over the meaning of the re-signing.  Some have expressed disappointment that a possible reunion with Anthony Cumia seems more distant.  Some fans seem to feel that Opie and Jim Norton "sold out" and took long a lucrative contract instead of making a statement against the firing of Cumia and leaving SiriusXM.  meanwhile other fans like the fact that Opie and Jim Norton will remain on SiriusXM's airwaves.  There is no right or wrong answer to feelings.  The forced split this summer in the show has simply brought out the passionate opinions of fans.  Whether the three could have "made it" with a subscription podcast service will have to be something that will remain unanswered.
SiriusXM, because it is mostly uncensored (the FCC does not censor the shows, but SiriusXM does have certain rules of its own) is a natural home and platform for "shock-jocks".  If the duo were not on satellite, they could be relegated to a podcast, which makes it much more difficult to make the same amount of money.
Listeners will certainly miss Anthony, but the show has remained compelling without him and he is regularly referenced on the show in one way or another.  Opie and Jim Norton need to grow into their show and place their own brand on it, but that is made easier by the fact that Jim Norton has been on the show for quite some time.
Are you a fan of the show?  Share your opinions!