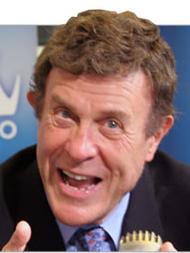 WCBS FM in New York was an oldies staple for what seemed to be forever. Long Time DJ Cousin Brucie (Bruce Morrow) was a fan favorite, and the radio station enjoyed good ratings for quite some time. All of that changed in two years ago when WCBS decided to forego the oldies format in favor of a newly developed format called JACK FM. JACK FM did not use on air personalities, instead opting for pre-recorded sound bites. The format, designed to compete for the ears of the i-Pod crowd, was dubbed "your i-Pod on shuffle."
Cousin Brucie, and other on air personalities were let go with the switch, but Morrow was not out of work long. The DJ quickly found a home at Sirius Satellite Radio, and currently has one year left on his contract. Now, he seems to have been vindicated in a decision by WCBS FM to return to an oldies format.
WCBS, according to the New York Times, has decided that a the loss of half of their audience share, and a trimming of 30% in ad revenue in 2006 was simply too much, and they are returning to an oldies format. That switch will come without Cousin Brucie who still spins the tunes for Sirius.
For his part, Cousin Brucie seems to be very diplomatic stating, "I'm thrilled that this music is getting a chance again. This music has been treated terribly, and people in their 40s, 50s, 60s and 70s are still a very viable product in this society."
Some radio analysts predict that some of the old DJ's from the station will return to WCBS. The question is what will Cousin Brucie, the biggest name in the crowd, do? Again, in a very diplomatic response, Brucie said, "I'm very happy at Sirius, but I'll consider every option. In one year a lot of things can happen."
So, what can be gleaned from these events? Well, clearly we can start to see some other aspects of the competitive landscape. Where did the audience of WCBS go? Did they follow Brucie to satellite radio? Did they find other terrestrial radio stations to listen to? Is the existence and creation of JACK FM acknowledge that terrestrial radio is trying to compete with i-Pods and MP3 players? Do the moves of DJ's like Brucie show that competition goes beyond the music played? Do changes in format illustrate that it is the content that matters, be it "local" or "national"?
There are many questions, and likely just as many theories, but in the end, it can not be disputed that it is the ear of the audience that is being sought.
Position – Long Sirius, No Position CBS -IMOJB-