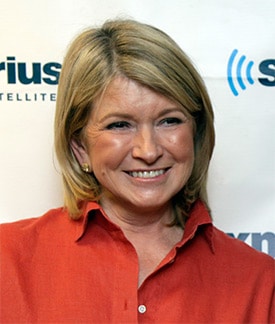 For over six years Martha Stewart Living Radio has taught SiriusXM listeners how to cook a turkey, decorate a tree, and keep a clean home but, one thing has been sorely missing from satellite radio dial… Martha Stewart!
All of that is about to change. Beginning February 19th, Martha Stewart will take the reins and host her own live daily 2 hour radio show. The new show will consist of various topics surrounding the life of a business tycoon and will feature interviews, contributions from experts, and live listener call-ins.
Will Martha discuss how she told a little lie about insider trading, which saved her a measly $45,673, and subsequently landed her in jail while, even today, no top executive from Bank of America, Citi, or Countrywide has seen the inside of a cell after committing BILLIONS in fraud? Probably not but, if she did, she'd likely capture the interest of men and women across the country.
Instead she will probably play it safe, talking about her artsy interests, living healthy, and her philanthropic endeavors – adding a little something new to the dial and keeping that demographic happy is always a good thing.
"I am happy to launch my newest show on SiriusXM, and I look forward to spending more time than ever sharing my knowledge and experiences with listeners from all over the country and learning from them and my guests," said Martha Stewart.
Surprisingly, Martha Live will not air on the Martha Stewart Living (ch.110), but instead you'll find her on Stars, channel 107 weekdays from 12 to 2pm ET, with replays at 7 to 9 pm ET. The new show will also air on a new 24/7 Martha Stewart channel coming to both the online and smartphone platform – the channel number is still yet to be determined.