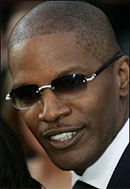 If you happen to be planning a trip to Atlantic City to celebrate the 4th of July you are in luck!  Sirius XM Radio (NASDAQ: SIRI) has announced today that Jamie Foxx is taking his exclusive, uncensored 24/7 comedy and entertainment show on Sirius XM's  "The Foxxhole" (ch. 98) to Atlantic City to celebrate the July 4th holiday weekend.
Foxx will host a special edition of his live radio show The Jamie Foxx Show from The Palladium Ballroom at Caesar's Atlantic City on Friday, July 6th from 3:00 — 5:00 pm ET.   Foxx creates unique and compelling content and this live show will certainly be no exception.
Celebrity guests from the worlds of sports, music, comedy and entertainment will be stopping by to join the fun.  What fun you may ask?  Come on now…This is Jamie Foxx we are talking about!  Listeners will get inside access to Foxx's party at The Pool After Dark at Harrah's Resort later that night with another live broadcast from 11:00 pm — 2:00 am ET.  Not enough yet?  Well, Sirius XM's Foxxhole July 4th weekend will also feature behind-the-scenes coverage of The Foxxhole Radio Comedy Jam shows.
What more of an excuse do you need for heading down to Atlantic City?  If you can't make it, the radio show will certainly entertain.