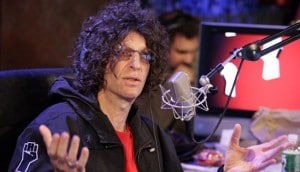 As if the Howard Stern Show were not already controversial enough, we now have a class action lawsuit from a Stern Intern for unpaid wages.  Plaintif  Melissa Tierney is suing SuirusXM for unpaid wages.  The suit is filed on behalf of herself and any similarly situated intern at SiriusXM.  The case centers around the fact the UNPAID INTERNS do not get pay.  Tierney served as an intern from about August 2011 through December of 2011.
In the history of television and radio there have always been interns.  In most cases these interns do not receive any pay.  The concept is that students that want to seek experience in the industry serve as interns.  Usually these interns get to learn about the job, answer the phones, get coffee, and simply absorb the atmosphere while they are there.  The intern gets their feet wet and sees how things work, and the company gets the benefit of a "gopher"  of sorts.  It is how things have been done for decades.
Now, I have no real way to verify this, but one almost has to assume that Interns being brought on board are very clearly told that it is an UNPAID POSITION.   The SiriusXM website shows that Internships are unpaid , available to college enrolled students and those students receive credits for their internship work.
In the lawsuit Tierney states that she worked 4 days per week and between 6 to 9 hours each day.  Interestingly, the suit claims that she had to work over 40 hours per week but did not receive overtime pay.  Last time I checked, 9 hours a day multiplied by 4 days is 36 hours.  She listed her duties as:
running errands
placing orders
obtaining breakfast orders
delivering food items to on air personality and office staff
reviewing news clips
reporting to on-air personalities
compiling data
obtaining signatures from guests
other tasks necessary to the Defendant's operations
Tierney is apparently now self employed with a website called MissyonMadison.com, a fashion site where Tierney chronicles her journey to "find great looks at affordable prices".  She launched the site immediately after finishing her internship at SiriusXM.  Her Linked In Profile shows her as being the Intern for Robin Quivers.  Interestingly, the lawsuit claims that she and other interns did not receive any academic or vocational training, yet the "resume" on LinkedIn indicates that the Digital Communications and Media/MultiMedia major lists that she contributed show ideas and even talked on air on the Intern Show.  Ironically, while holding down her position at the Howard Stern Show, she was also a receptionist at Cactus Salon and Spa and an Intern at CupidsPulse.com.  There seems to be no lawsuit filed against CupidsPulse, so perhaps that was a paid internship (hmmmm is another suit in the cards?).
Intern
Howard Stern Show
August 2011 – January 2012 (6 months) NYC
*Robin Quiver's Intern
*Find news articles for her to discuss on the show
*Contribute ideas to the show
*Answer calls
*Talk on air on the 'Intern Show' on Howard 101
*Run errands and make sure everything runs smoothly in the office
Receptionist Cactus
Cactus Salon and Spa
Privately Held; 501-1000 employees; Health, Wellness and Fitness industry
August 2010 – January 2012 (1 year 6 months)
*Schedule appointments for special events as well as everyday services
*Answer telephone inquiries pertaining to services, treatments and products
*Handle client payments
*Order retail merchandise
*Open and close the salon in absence of Manager
Intern
CupidsPulse.com
Sole Proprietorship; 1-10 employees; Online Media industry
April 2011 – November 2011 (8 months)
*Write celebrity gossip posts including dating and relationship advice
*Write longer feature stories providing tips and reviews
*Come up with marketing and advertising ideas
*Help plan events
This is not the first time that Interns have filed a suit over pay.  Several organizations like Fox, Vanity Faire, and others have also had legal issues surrounding the tradition of unpaid internships. Law360 has an article on the subject.  There is even a website dedicated to Intern Justice.
Now, I am not passing judgement on Miss Tierney, but the fact of the matter is that she likely knew very well that the internship was unpaid.  The claim that there was no educational or vocational component to her internship seems washy at best.  Miss Tierney openly acknowledges that she compiled data, contributed Stern Show ideas, was on the air, and certainly learned a thing or two while there.  In fact, just seeing the operations run day in and day out contributes a valuable lesson.  Miss Tierney is not at all shy about listing the Stern Show experience on her website and even links to it.  If nothing else the Stern Show internship was apparently a valuable experience in that she lists it among her accomplishments in what can only be perceived as selling points.  For future reference, if you are going to file a lawsuit you should make sure that your stance in the suit matches your stance on your social media and website.  Melissa's attorney may well not be aware that what Melissa states on her public pages seems to differ from the suit claims.
Should interns get paid?  I guess that debate can go on forever.  On one hand I can see modest pay for what is done.  On the other, the experience can and usually is very valuable.  My stance on this suit.  If you knew it was unpaid and did not like that, you should have not taken the position.  This suit, to me, looks like a money grab.  I suspect that the public profiles, on LinkedIn, Facebook, etc. will change soon.