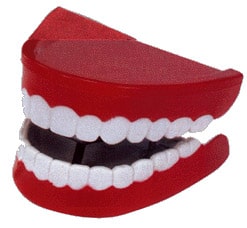 Last week Page Six reported that an unidentified person doing a photo shoot happened to find himself in the Master Bathroom of Howard Stern and reported to the New York Post Gossip column that on the bathroom counter were Howard Stern's dentures. Nothing was reported about other bathroom amenities attributed to the King of All Media, but the denture story got published.
Howard, being on vacation could not respond until today, and respond he did. Stern stated that there were three individuals were at his house in the Hamptons doing a photo shoot for a feature story on Beth Ostrosky, Stern's Fiancee. During the shoot one of the individuals went inside to use the bathroom, and apparently took it upon himself to take a tour of the Stern residence, and decided to answer natures call in the Master Bathroom.
Today, Stern stated that he was angered by the invasion of privacy, and then explained that the "dentures" in question were actually a mouthpiece which is worn by Stern during the night so that he does not grind his teeth. Thus, Efferdent got a free plug on the Stern show as a product that can not only clean your dentures, but your mouth guard as well.
Mystery solved.