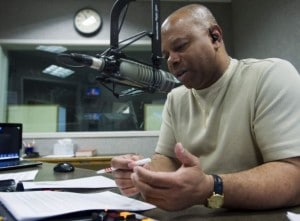 Sirius XM Radio (NASDAQ: SIRI) has announced the launch of The David Webb Show, a daily live, call-in show hosted by the conservative commentator and co-founder of New York City's TeaParty 365.
The new show bolsters an already impressive conservative talk line-up on Sirius XM Patriot, which includes the likes of Sean Hannity and Glen Beck. Webb's show will explore all things conservative and breaking news in politics, the economy and of course national security news.
David Webb will attract some big names as guests.  Former U.S. Secretary of Defense Donald Rumsfeld is scheduled to join Webb as a guest on his inaugural show on June 18, and we can look forward to many more high profile guests to come as well.  Names like  Republican National Committee Co-Chairman Sharon Day; national security experts Dean Popps, Wayne Simmons and Brigadier General (Ret.) Stephen Xenakis, MD, Ph.D.; National Tea Party Federation's Christina Botteri and conservative broadcasters/commentators Sean Hannity, KT McFarland and Charles Payne will also appear on the show.
The show will air nightly live from 9:00 pm  – midnight ET on Sirius XM Patriot (ch. 125).
With 2012 being an election year we can anticipate a lot of good debate and discussion.  David Webb will broadcast his Sirius XM Patriot show live from the Republican National Convention as well as other key events leading up to the presidential election.
These remote broadcasts can add an entire new dynamic to the show and typically bring about even more top notch guests. Webb also hosts David Webb's American Forum, an interview series on Sirius XM Patriot featuring notable guests such as 46th Vice President of the United States Dick Cheney.
Listeners are encouraged to call 866-95-PATRIOT and tweet @davidwebbshow with questions and comments.