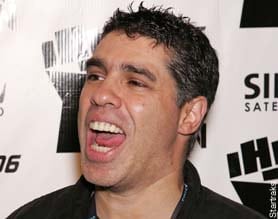 The Howard Stern Show has been a prolific part of radio for more than two decades. Throughout the years, many Stern Show participants have benefited from their association with Howard. There have been books, comedy tours, web sites, acting gigs, and even DJ businesses that have all blossomed from the success of the morning radio staple.
The latest news is that Stern Show producer Gary Dell'Abate, also known as BaBa Booey, will be penning a book due out November 3rd of this year. The title... "They Call Me BaBa Booey". The book is virtually certain to sell many copies. In the past other show participants, including Artie Lange have had great success selling their books.
Dell'Abate's book is about everything from his relationship with his mother, to his now famous first pitch at a Met's game. The pitch has gone down as one of the worst opening pitches in history, and fans certainly never let him forget it. The ball was even auctioned off, and the proud owner is TSS-Radio.
They Call Me BaBa Booey is already available for pre-order on Amazon.com for $16.50. If that is not tantalizing enough, there will be an audio book available as well, which is certain to wind up in many Stern Show bits, prank calls, and a general topic of discussion on the show.
Still want more? Imagine the appearances on talk show's. Gary on Letterman, Regis and Kelly, or even with John Stewart. It will be priceless, and not only give the book exposure, but Sirius XM and the Stern Show as well.
Position - Long Sirius XM Radio