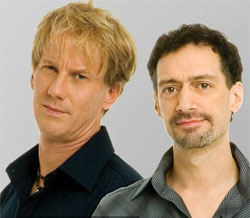 In an interesting content move Sirius XM Radio is showcasing the Opie & Anthony show all month on Sirius XM Stars Too. The O & A showcase will run through June 18th. The radio personalities have been an XM staple for many years and are well known for on air antics and some infamous stunts that had them fired from terrestrial radio stations in years past.
The Opie & Anthony Show runs from 6:00 AM to 11AM EST on the XM Satellite Radio platform sharing the same time slot as Howard Stern, which is on the Sirius platform. By simulcasting Opie & Anthony on Sirius Stars Too, the duo is available on both platforms.
Sirius XM is essentially giving Sirius subscribers a taste of what is available on the BEST OF package for XM while the company seeks out a way to replace the morning slot void on Sirius XM Stars Too left by Vinnie Politan. It is an interesting move in many ways. Some may even theorize that the company is showcasing Opie & Anthony as a negotiating ploy by Sirius XM in the Howard Stern contract talks. Sterns contract expires at the end of this year. No matter what the reason, the Opie & Anthony show is edgy, catchy, and entertaining.
Listeners can catch the show on Sirius XM Stars Too (Sirius 108 XM 139), as well as on the Virus channel 202 on XM or Sirius channel 197 for Sirius subscribers with the BEST OF XM package.
Position - Long Sirius XM Radio