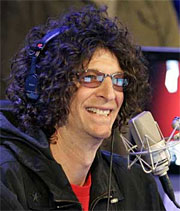 Howard Stern has been nominated for the Radio Hall of Fame. In most cases the nominees take such news with reverence, and are excited to be recognized. This was not at all the case for Howard Stern. Yesterday he stated that after all of the years he has been in this business, ad all of the things he has brought to radio, why NOW would he be nominated. Howard's take on the situation seems to be a cross between arrogance, and being perturbed.
Howard has done a lot for radio. Anyone who wants to speak truthfully about it will acknowledge this. But…as a "bad boy" of radio, he has never really gotten the credit he deserves from the "serious" side of radio. The fact that over two decades has passed and it is only now that he garners such a nomination would be a bit insulting given the level of his commitment to the medium and his influence and success.
Setting all of that aside, Howard actually stated that he would prefer to not be nominated, and that he wants nothing to do with the radio hall of fame. In fact, he went so far as to say that he would not participate even if the paid him a million dollars, and then told the Radio Hall of fame to suck his d*ck!!!
So, is Howard really this dissatisfied with the radio hall of Fame, or will his stance even matter? Voting for the nominees will be conducted on line, and run from May 1, 2008 through June 15, 2008. Because of who he is, Howard may just win the vote anyway. His fans tend to be active on the net, and he carries more of a presence than other nominees which include:
– Bob Costas, the host of his own syndicated radio show Costas on the Radio, a weekly two-hour interview show distributed on Premiere Radio Networks and heard on nearly 200 stations and XM Satellite Radio.
– "Focus on the Family", was founded in the mid-1970s by Dr. James Dobson, a psychologist, lecturer, and author; the show is internationally syndicated and heard on over 4,000 stations worldwide.
– Dr. Laura Schlessinger, a no nonsense cultural commentator since 1974, her show is distributed by her own production company to more than 270 stations and can also be heard on XM Satellite Radio.
– Howard Stern, outspoken personality who has changed radio's landscape, he has established himself as one of the most popular and controversial radio hosts of all time and can be heard on Sirius Satellite Radio.
It will be interesting to see the tact Howard takes as the voting begins. Likely he will not lobby for himself, but will he ask fans to vote for someone else. No matter what happens, I can already see people calling shenanigans because Howard is involved. Howard is between a rock and a hard place because the ultimate decision is dictated by on line voting. If Stern wanted, he could win in a landslide. He could also propel one of the other nominees by throwing his support their way. No matter what, there will be those that think the process is tainted because stern, the radio bad boy is involved.
Position – Long Sirius/XM