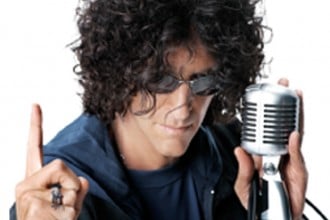 Sirius XM Radio has made huge strides over the past year. They have moved to generating subscribers again, refinanced debt to better rates, started cleaning up the balance sheet, regained NASDAQ Listing requirements, avoided a forced reverse split, and are on the verge of getting added to the Russel Indexes. Throughout these trying times, Sirius XM's Howard Stern has remained a constant, delivering his radio show the way it was meant to be heard. His mission is simply to deliver the best entertainment show on radio.
The interesting thing about Howard Stern is how dynamic he is. Yes, his antics are not the favorites of some, but his show is far more than just antics. The show is about every day life the way we all live it. If you have never heard Stern you are missing out on a brand of Howard that is better than ever. I would not go so far as to say that Stern mellowed with age. A more proper description would like fine scotch. Stern has "smoothed" with age. In fact, he is better now than he ever has been, and even he knows that, like scotch, the best is yet to come. If nothing else, Stern hates to disappoint. Stern is still edgy, but most of the edgier antics are now part of the staff. The best Stern content comes from his insight into people, what they want to know, and what type of entertainment is relevant for the moment. Some of the best interviews I have ever heard came from Stern. He is a master that is getting better with each interview.
Stern manages to speak with people on a level where they do not feel threatened. He resonates with not only his audience, but those that appear on his show. Stern provides the forum where a guest feels comfortable in letting loose a little bit. He is able to draw out things that no other interviewer can, and his audience gets the luxury of gaining insight that they never would have had otherwise. Sure, he talks about sex, but realistically speaking, it is a subject that everyone thinks about (some many times per day). Stern fans sit in the privacy of their cars and feel like they are being included in some secret that others are not privy to. It is a dynamic. It is a connection.
All of this being said, Stern is on the last months of his deal with Sirius XM. Some speculate retirement, but I think Stern has more to give, and at least at this point, is not ready to turn off the microphone. What is more likely is a schedule that is a bit more liberal, perhaps even going down to a three day per week schedule. People will still have Stern, and believe it or not, a three day schedule may lead to a show that is better still. Consider this. If Stern worked Tuesday, Wednesday and Thursday, he would have a four day weekend. This gives Stern the time he wants to do the little things that we all love to do. The beauty is that the more Stern can live life, the more we, as listeners get to share in it. This past weekend Stern took a rare trip to California and today we were treated to a terrific interview with Ashton Kutcher. Stern living a "good life" translates into more that he can bring to radio.
Howard Stern is more relevant than ever. Sirius XM is more relevant than ever. Sirius XM gives Howard Stern the platform to do his show the way it was meant to be done. Watch for Stern to not only renew his deal, but to deliver the highest caliber radio of his career.
Position - Long Sirius XM Radio