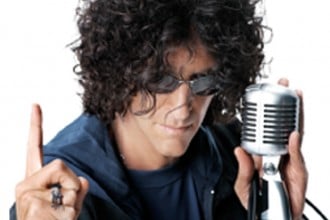 Blackberry, Twitter, and Facebook have something to celebrate. After long deliberation, and personal reviews of many cell phones, Howard Stern has made his choice on which device will clip to his hip. The iPhone was in the running, but in the end it was the Blackberry Bold that got the nod of approval from The King of all Media.
Stern's moniker as King of all Media has stepped up in the tech world with not only the Blackberry news, but also because of announcements on the show that Twitter and Facebook are now in the Stern arsenal. After only one hour Stern already had thousands of followers on Twitter, and the news that Stern wanted to post a video via Facebook already has people clamoring to find the Sirius XM entertainer on that service.
As we have seen demonstrated time and time again, Stern carries a lot of influence with his fans. Blackberry has certainly been impacted by brisk iPhone sales over the past eighteen months, but with Stern endorsing the Blackberry platform, the company is sure to put a dent in the "coolness" factor that iPhone has enjoyed since its launch. Tweeting on Twitter is a phenomenon that is wide reaching, and Stern is now participating, which will bode well for the show as well as fans. Facebook has had mentions on the show in the past, but Stern was reluctant to use his private Facebook in a way that fans could participate. With a show based Facebook page, the interaction and updates may be more frequent, giving Stern followers even more Stern material.
As a fan of satellite radio, it is great to see Stern make these moves. Other shows should consider following suit, and Sirius XM in general should consider the same. Technology is moving fast, and participation in platforms such as Twitter and Facebook can give Sirius XM additional outlets to market their services and shows.
So what brought on all of this sudden activity on the net? We have Sirius XM's Tim Sabean to thank. He is pushing for more synergies, and for that we are all thankful.
Position - Long Sirius XM