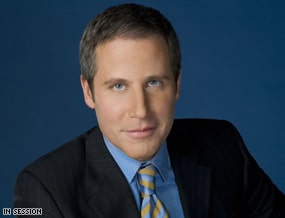 Satellite Radio subscribers would be in for a treat if Vinnie Politan gets a morning drive slot.
In March of 2006 Sirius Satellite radio entered in a content relationship with Court TV to create Court TV Radio. The channel was an outstanding example of the wide array of programming that satellite radio could offer listeners. In my opinion, the highlight of the channel was the Vinnie Politan Show which aired weekdays from 6:00 am to 9:00 am. Politan was a breath of fresh air on radio airwaves, and his experience as an attorney brought a combination of real world experience and topical information to listeners across the nation.
Vinnie Politan came to Sirius through his position at Court TV. This past December Court TV went off the air and was replaced by Tru TV, a new network seeking a new direction. With the disappearance of Court TV, the Vinnie Show went off of the air. This event, while frustrating for listeners and fans, could well be a blessing in disguise, as it frees up Vinnie Politan to negotiate directly with Sirius, and would allow Sirius to market Vinnie in an entirely new direction.
While Howard Stern is indeed popular, and carries a large audience, there is not much of an alternative for those that would rather listen to a less "edgy" yet highly topical show. Vinnie Politan is charismatic, carries a great radio voice, and puts on a terrific show. Free from the confines of a pure "Court" theme, it is my opinion that Politan could become even a bigger radio commodity than he was under the Court TV brand.
It is my opinion that Sirius is missing something important in the morning drive slot. A viable alternative to Howard Stern. Sirius' flagship station, Sirius Stars offers Angels On Call, Jane Radio, Judith Regan and Candice Bushnell in the morning drive time-slot. Now, I am not trying to speak down about these shows, but it is my feeling that a mixed bag in the Sirius Stars morning drive slot is not the caliber of programming that it takes to hold a morning drive slot. Listeners want something consistent to enjoy with their morning coffee. With Vinnie Politan free to create a new Vinnie Politan Show that is not typecast into a court themed show, there is a potential to create an alternative to Howard Stern that can have a much wider appeal than a show such as Angels On Call.
Politan has a fan base of Sirius subscribers that would like to see him return to the air, and I would agree that Sirius should find a way to bring Vinnie Politan back in a way that is even better than before. 110ers.com has done a great job of following Vinnie Politan, and has also been instrumental in getting the word out about the show, and showing support.
Sirius Buzz contacted Vinnie and his agent Julie Eckhert and they were kind enough to give us an interview about Vinnie's experience on satellite radio, what he is doing now, and his desire to return to the radio airwaves on a national basis. For merger watchers, we even got Vinnie's opinion on the proposed transaction between Sirius and XM. Interview after the jump…
Tyler Savery – Vinnie, Julie, on behalf of Sirius Buzz readers I would like to thank you very much for taking the time to talk with us.
Vinnie Politan – Sure anytime Sirius Buzz. Should I call you Sirius or can I just call you Buzz. You know, I have a guest on my show named Dr. Buzz, are you related?
Tyler – (Laughs) Not related to Dr. Buzz, and you can feel free to call me Tyler.
Julie Eckhert -There's nothing I'd rather talk about than Vinnie.
Tyler – That's good, because this piece is all about Vinnie, but don't be shy Julie because I have some questions for you as well. Seriously though…before getting into the current situation with Court TV, I would like to offer readers a bit of background on you Vinnie, and how your career path brought you to television and radio. As an attorney you enjoyed a successful career, at what point did you decide to become a journalist, and what was it that attracted you to taking your legal experience to a forum outside the courtroom?
Vinnie – It was really like returning to my first true love. As a 10-year-old child I hosted my own variety show. I had a microphone and a cassette recorder and spent hours doing impressions and bits. Richard Nixon, Howard Cosell, Ed Sullivan and Johnny Carson were all part of the Vinnie Show that no one ever heard. As I got older I started to include some of my close friends as part of the cast, and we had a blast just making faux radio. Then in 1981 a new world opened up to me. I got my hands on my first video camera, and started doing talk shows and music videos before anyone heard of MTV. I was fascinated by this medium, and spent hours in front of and behind the camera. In college I worked at our radio station KZSU, Stanford for four years, doing news and hosting a musical program. After college I got into the family business of law. I prosecuted criminals then went into private practice… and that's when my life changed.
I was watching World News Tonight and a story popped onto the screen. The correspondent was my Stanford classmate and fellow KZSU alum, JuJu Chang. Wow, JuJu did it! I was inspired and determined at that point to return to my first and only true love – broadcasting.
I hooked up with the world's best broadcasting coach… Julie Eckhert… put together a reel of my work and landed my first job at a little cable station in northeast New Jersey working on local news. Two years later Julie works her magic and gets me on Court TV.
Tyler – So broadcasting has been a lifelong passion. Perhaps this is why your show has so many fans, and you seem so natural to listeners. Being passionate about what you are doing is a key factor in broadcasting. In my opinion people can sence someone who believes in and is doing what they want to do. Julie, How did you come into the picture?
Julie – I saw Vinnie's work at that little cable station in New Jersey and he blew me away. From our coaching days, I already knew he was smart, a good writer and quite the hunk, but until then I had no idea how hysterically funny he was. Even if he threatens to have "the boys" shoot my kneecaps, I'm going to give you a couple of clips from his first news job. His news director asks him to cover spring weather, he comes back with a John Travolta impersonation. The boss asks him to cover a day at the zoo, he creates his imaginary twin brother. He comes up with his own law show and produces a funny "promo" to go with it.
Tyler – I will include those clips in the article. Seems like a classic case of knowing a talent when you see them, Julie. As Vinnie's agent. Can you give us a bit of background into the Court TV contract and how that spread into other areas for Vinnie?
Julie – Several years ago, Court TV was looking for a new reporter, so they hired Vinnie and sent him out to cover trials. But Vinnie didn't do things the way stuffy lawyers often do. He started taking bits of evidence and acting out the crime scenes; on verdict watches, he would talk about his favorite pizza joints. Pretty soon it was obvious that Vinnie could not only talk about anything, he could make the most mundane subjects intriguing. Sirius's Court TV Morning–the Vinnie Show–was just a natural extension of his personality. One of my favorite segments on the Vinnie Show was his very cerebral discussion of trying to find a public bathroom for his son in New York City. I was laughing so hard I cried, because we've all been in that situation.
Tyler – Julie, in my opinion, Vinnie has demonstrated an ability to get beyond the "court" typecast. The segment you and everyone found so humorous is a prime example, and is why I think Sirius should fully consider bringing Vinnie on in a morning drive role. Now Vinnie, you hosted a show on Sirius for almost two years. Did your experience on satellite radio go beyond your initial expectations? Did you find that broadcasting to a nation audience added diversity and flavor to the show?
Vinnie – Honestly, I did not know what to expect when we started. I thought we would have a "different" show, but I wasn't sure if people would relate to it. I was honest on the air and just acted like myself when I am with my closest friends. I did not create a radio persona, I was just Vinnie. I was really amazed at the reaction. I was also amazed by the loyalty of listeners. We created a community on 110 where everyone was looking out for each other even if they did not agree with each other. That was unique. The diversity of our audience also surprised me. Southern truckers, northern professionals, law students, working moms all listening. All these different viewpoints really make the examination of our justice system even more fascinating.
Tyler – Very true Vinnie. The fact that you attracted such a diverse audience is a testament to the type of show host you are. In your show, callers were a big part of the happenings. How important a role are callers to your show?
Vinnie – Callers are the energy that drive the show. My philosophy with callers and guests are the same. Allow people the time to express their thoughts and beliefs. We don't have to agree, but to have an intelligent debate about anything you have to listen. I think everyone appreciates that.
Tyler – Listening is perhaps the best key to delivering a good show. Listeners want to feel that they are part of the process and not being "dictated" to. You do indeed listen and the show demonstrated that. How would you feel about a full morning show in drive time?
Vinnie – Drive time or any time!
Tyler – Sounds great to me as well Vinnie. A quick question for Julie. Julie, we have established that you are Vinnie's agent. Do you also represent the other talent that was on the show such as Jonsey?
Julie – No, just Vinnie.
Tyler – Julie, have you had any discussion with Sirius about bringing Vinnie back to the air? How about XM?
Julie – I can tell you that the subject has come up.
Tyler – Sounds like legal speak for discussions are happening, would that be accurate Vinnie? No…don't answer that, I know you can't and I do not want to put you on the spot. Anyway, what type of show would you like to have? Have you given any thought to the type of channel you would be on if a contract is reached?
Vinnie – I would love to do "The Vinnie Show…" a show that is unique, compelling, but doesn't take itself too seriously.
Tyler – Sounds like you would be able to do your original show, but free of the Court TV constraints. If I can shift gears I would like some legal opinion. Vinnie, as you are aware, Sirius and XM are in the midst of trying to merger. What do you see as the biggest challenges to the merger? Do you think politics will enter the picture? How would you define the competitive landscape?
Vinnie – I would love to see the merger. I think it would be great for all the subscribers, but I don't know much about the politics of the merger… that's not my thing. I like to talk about pop culture, the news of the day, and the 80's, boy do I miss my mullet!
Tyler – (Laughs) I once had a mullet. Did I just say that? Anyway, that is an interesting answer. Do you feel that the long time lines that accompany a merger are fair to investors?
Vinnie – I am not much of an investor, I keep my money in the freezer in my basement – it's a Sicilian thing.
Tyler – Money in a freezer in the basement. What's your address again? (laughs) So ultimately, what are the odds you would give for merger approval?
Vinnie – I am an optimist. I like to think the right thing will happen, so my money's on the merger going through.
Tyler – That's the money in the freezer right? Julie, a quick question for you on the merger. As an agent who represents talent, do you have any concerns relating to the merger?
Julie – Can't really answer that.
Tyler – Thank you both for the candid answers on the merger. I would like to close by asking Vinnie if there is anything he would like to say to fans of his work and show?
Vinnie – Thank you for all your emails and support. Every year I set a goal for myself, and getting back on the radio is on the top of my list for 2008! And oh yeah, if you want my meatball and sauce recipe send me a note: [email protected].
Tyler – Vinnie I must say that you get support for a reason, and that many would like to see you back on the air, and I think I will take you up on that recipe. In fact, I will offer it as a new article if that is okay with you. Vinnie, thanks again, is there a website where people can track whats happening with Vinnie Politan?
Vinnie – 110ers.com
Tyler – Once again, thank you both much for taking the time to chat with us. Please keep us posted on anything new, and we will be more than happy to share it with readers.
Vinnie – I just bought these new gels for my shoes… they are awesome!
Fans of Vinnie Politan and his show can show support by adding a comment to this article and participating in the Sirius Buzz Forums. All comments from this article will be forwarded to Sirius. Sites such as 110ers.com are also a good way to learn more and express your opinion. Individually, fans can also contact Sirius directly at their Customer Care section or by calling Sirius at 1-888-539-SIRIUS.
For Sirius Buzz readers Vinnie has been kind enough to offer some autographed photos. If you are a fan of Vinnie's, and show your support by adding a comment to this article, you may win one of five autographed photos of Vinnie Politan. Simply leave a comment on this article and also email your comment to [email protected] for consideration. Don't forget to email your comment, as this is how we will contact winners.
Position – Long Sirius, XM