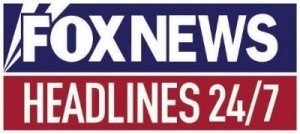 SiriusXM and Fox News have joined forces in the creation of a new news channel that will launch this Fall.  The channel will be called Fox News Headlines 24/7, and in contrast to current Fox offerings on SiriusXM, will be geared toward radio.  Currently, many popular news channels on television simulcast the coverage to satellite radio.  This concept is fine for most instances, but the medium of radio does indeed differ from television, thus, having a show built for a radio audience is a welcomed addition.
Fox News Headlines 24/7 will be staffed 24 hours a day, 7 days a week and 365 days a year.  FOX News Senior Vice President of News Jay Wallace will oversee operations of the new channel, in addition to his current responsibilities managing news at FNC.  The channel will pull from available resources at FOX News, FOX Business Network, FOX News Radio, Foxnews.com, and Foxbusiness.com.
The news is quite interesting considering that Fox and SiriusXM have, at times, had a contentious relationship.  There have been periods of time where Fox content was not available on the satellite radio providers service.  This deal likely points to the successes that SiriusXM has had in carrying Fox content, and in the value that Fox sees in the satellite radio platform.  This channel will garner a pre-set on my dial.  Stay Tuned!