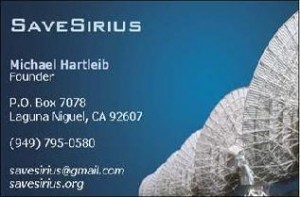 In the midst of a judges ruling that dismissed their case with leave to amend, the Save Sirius website went down. Today, a new Save Sirius website took the place of the old one. While the new site has a clean look, it does not yet have all of the functionality of the old ones. Forums, and the ability to search the site are not aspects that are available at the time of this writing.
Save Sirius, founded by Michael Hartlieb faces many challenges. Organizing people is a monumental effort. Getting all of those people to focus in one given direction is a task that many are not successful at.
Save Sirius has both supporters as well as detractors. One issue that is a potential hardship on the organization is that some people feel the efforts of the organization are going too far. Wanting to stop a reverse split, and the addition of new shares to the authorized count is one thing. Unwinding the merger, and sending people to jail is quite another. For this reason, the act6ivities of Save Sirius will always be polarizing.
One common theme I have seen is that shareholders feel that the company can wait and hold off on a reverse split decision. This is true, but there are many potential reasons the company may want to have this ability in their pocket. In contrast, a person could reasonably ask why Save Sirius is not holding off to see what happens with the Q4 and financing due in February prior to moving forward.
What is happening here is that there is no happy middle ground. With regard to Save Sirius, shareholders are either for or against an "all-in" situation. If Hartleib is correct in his allegations, the company will not survive, at least not in the manner that satellite radio consumers would expect. If he is wrong, then everyone stressed themselves out for a cause that bears no fruit either. Like any issue that is being dealt with in court, it is typically the attorney's that gain wealth, and that could well be the case here as well. The latest dismissal means another filing, more responses, and more money for attorney's on all sides of the issue.
Save Sirius in my opinion raises some valid issues that may be of concern to shareholders. They also raise issues that, at least up to this point, are circumstantial in nature. Shareholders should consider all sides of the issue, whether good, bad, or ugly. Shareholders should hold as strict a yardstick to the Save Sirius as they do to Sirius XM Radio.
My opinion... most people fall into an opinion that is between the stance of the company and Save Sirius, the attorney's will make money.
Position - Long Sirius XM