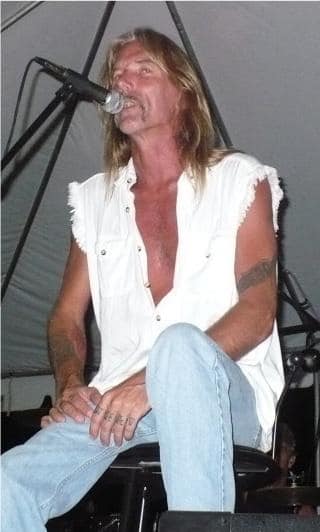 Satellite radio is a wonderful place to discover new music, explore a new genre, or even catch a listen to some of your classic favorites. As wonderful as satellite radio is, there is always room to explore the Indie scene and discover new up-and-coming artists for yourself. I make it a point to seek out live entertainers who have great sound, but have not yet burst through to the mainstream. I always have a special appreciation for artists that write their own music.
This past weekend I explored a bit of the local music scene in Cocoa Beach Florida. This time of year the tourism is down and it gives you a chance to get up close and personal with what is happening musically. I came across Michael Allman by happenstance. I was with friends at a club when he came to the table and offered to take a picture for us so that we could all be in it. It was a nice gesture which we repaid by buying him a drink. Ten minutes later as he approached the stage I found out that he was Michael Allman, son of Greg Allman, one of the key members of the world renowned Allman Brothers.
Michael proceeded to sing some original tunes that carried a combination of Southern Rock and Blues. The man clearly has talent, and a stage presence. It would seem that talent runs deep in the family. Michael has his own record label, owns his own material, and distributes his music in a combination of the old fashioned way and the high tech way. His music is available on iTunes, but as yet is not widely available in stores.
Michael Allman is a down to earth guy. I had the opportunity to hang out with him, his friends, and some local fans. It is this part of the music scene that is missed by many. I have oft heard stories of people who met some great entertainers before they made it big. The only way you can accomplish this is to get out there and experience talents such as Michael Allman in the intimate settings that local live band clubs offer.
One thing that I look forward to as Sirius XM rolls out Satellite Radio 2.0 is the added capability to have additional channels. It is my hope that a radio show that travels city to city seeking out talented musicians is a possibility. The viral aspect of this type of marketing can be huge.
We hear all the time about battles between artists and the record labels. It is one of the main reasons that artists such as Michael remain unsigned and create their own labels. Satellite radio has a chance to change that, but it may take fans like you to help push the envelope.
Michael Allmans CD is titled Hard Labor Creek. It features songs like "Mule Named Whiskey", a song featuring the gravelly voice of Allman with some great riffs mixed in. Also featured is "Nobody to Blame" where you can hear some harmonica and awesome keyboards. If you appreciate music or consider yourself an audiophile you should check out Michael Allman. If you want satellite radio to take the next step star to request some of the songs your local musicians play. The music world has a ton to offer and satellite radio has the potential to bring this unique content to the airwaves like nothing else.
If you love the Allman Brothers you owe it to yourself to listen to Michael Allman's music. Michael has his own unique sound that represents the next generation of Allman music. He's a down to earth guy who is all about the real feelings of music.