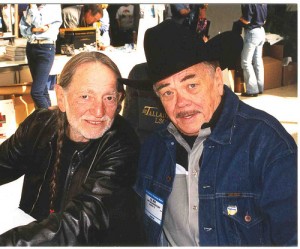 Sometimes changes have unintended consequences. Sirius XM recently announced a new channel line-up that not only changed the channels that stations air on, but had some channels merge as well. One such change was the merging of Willie's Place and Roadhouse. As a result of this channel merge, The Bill Mack Show will no longer exist, as Mack and Sirius XM could not come to agreeable terms.
The Bill Mack Show debuted on Sirius XM in early 2009, and was popular to country music fans and truckers. Bill Mack did announce that he is not retiring, and will once again reach the airwaves in some manner. In a note to his listeners Mack stated the following:
"There are a lot of rumors making their mark pertaining to my leaving Sirius-XM. Allow me to present the facts:

First of all, I was not fired by the company. There were some negotiations, but nothing was presented that sparked any interest for the future. As a matter-of-fact, negotiations were active until ten minutes before my final broadcast.

I did not exit Sirius-XM because of health issues. My health is super good, thank God. Cindy is also in great shape (wow!). My friend A.J., at the Ernest Tubb Record Shop in Fort Worth, informed us that there was also a rumor making the rounds stating that I had died!!!!! This, I can assure you, is an exaggeration!

I had hoped to remain with Sirius-XM for awhile. It was fun! However, after receiving details of the merger of Willie's Place with the Roadhouse channel, I discussed things with Cindy and we agreed that it was time to make our exit. This does not apply to my good pal, Willie Nelson. We've been "sidekicks" for years … and that will continue! I also hope the new Willie's Roadhouse is a success.

I also want to stress the fact the I am not retiring. Radio is still a "fun-game" to me. As long as I have a workable voice and enjoy being with my radio listeners (my broadcast "family"), I plan to remain in action. As I have stressed many times, my "listeners" are my bosses. I've always referred to those special people who allow me to be a part of their day (night) as being treasured friends! My job was to fulfill what they wanted to hear! That's one reason we have always utilized the telephone, e-mail … and the post-office. Ignoring the requests/suggestions of those caring individuals would be an insult!

Keep viewing this website for our plans for the future. Some of those plans are already being put to deep study.

Right now, Cindy and I are playing more golf (she keeps winning!). We also think about our "radio family" on a daily basis. Yes, we miss you tremendously!

Please continue prayers for those serving us in the military.

God bless all of you! Cindy sends her love … with mine."
When Sirius XM initially announced the Bill Mack show Scott Greenstein said, ""BILL MACK is a Country music radio icon and will fit in perfectly with his good friend WILLIE NELSON on SIRIUS XM's WILLIE'S PLACE channel."
The loss of Mack is certainly a blow to the country music side of Sirius XM's programming, but the company is moving forward with content that is unparalleled. I would imagine that Mack will wind up doing a podcast or hooking onto a terrestrial radio station in the near future.