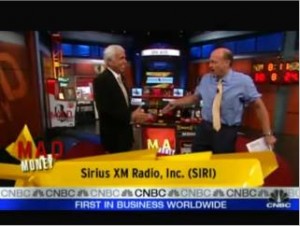 Todays Mad Money appearance by Mel Karmazin may be the single most important interview for every Sirius Xm investor, ever. As the bottom was again tested at 1.32 on Friday, this was a must win for Mel Karmazin.  I must say that in my opinion, Mel delivered and delivered in a big way. Mel began by assaulting Jim Cramer on behalf of all SIRIUS XM investors, by throwing an object of some sort at him! Boo-Yah, Skee-Daddy!
Mel was able to set Jim straight on many things, such as next years converts which Jim tried to claim were due this year. Mel also took a shot at Goldman Sachs, citing potential wrongdoing on the part of Wienkes, regarding his work with hedge funds.
He explained in layman's terms that promotions regarding the best of packages, namely Howard Stern on XM would be available this fall, and investors should look for a large marketing push to this effect. Regrettably, Mel outlined that some terminations have already taken place and that more would be forthcoming.
As for greater visibility, he stressed that SIRIUS XM would be providing an investors conference call following Labor Day, to outline the future plans and update guidance. Mel seems laser focused on profitability.
One of my favorite parts was getting Jim to concede that he liked no other company in the sector better. I was thinking about this yesterday while watching the Olympic men's relay team steal the gold medal away from France. What if you could only buy and sell stocks every four years? Sirius, in my opinion would certainly have to be one of them.
The stock reacted nicely and is well off its technical bottom. Is this the beginning of the long awaited reversal? Time will tell, but for the moment it's looking like it very well may be!
Position - Long SIRI