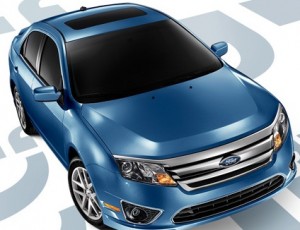 The final sales figures are in for 2012 and the good news is, the total came in just under 14.5 million, an impressive improvement from the 12.76 million posted a year earlier.  Happy New Year Everyone!  As a token of thanks for our loyal readers, this auto article will contain information that is typically reserved for premium members. If you are serious about your investment in SiriusXM, you should consider giving SiriusBuzz Premium a try.  After all, it is a 30 day risk free trial and you need to do something with that special dividend you received as 2012 drew to a close.
Auto sales for December were impressive enough to be the second highest sales total in 2012.  The only month that was better was March. December sales came in at 1,354,000 units, bringing the total for the quarter to 3,588,000, and giving us 14.48 million new cars sold for the year!  All of this is great, but what does it mean for Sirius XM?
Well, as good as December was, it was not enough to bring the quarterly number up high enough to match the level we saw in Q2 when SiriusXM announced an impressive 620,000 subscribers, nor as high as Q3 when the company announced 450,000.  In fact, Q4 of 2012 was the third best quarter, beating out the weaker Q1 by about 120,000 units.  Fear not though, Q4 is usually a good month for subscriptions and the market share distribution favored the leading category, meaning we see more cars counted as subscribers at production than normal.
Below are 4 spreadsheets that represent each quarter of 2012.  I provided this so you could see the year as a whole without having to go back to each monthly article I wrote on the subject:
Q1 2012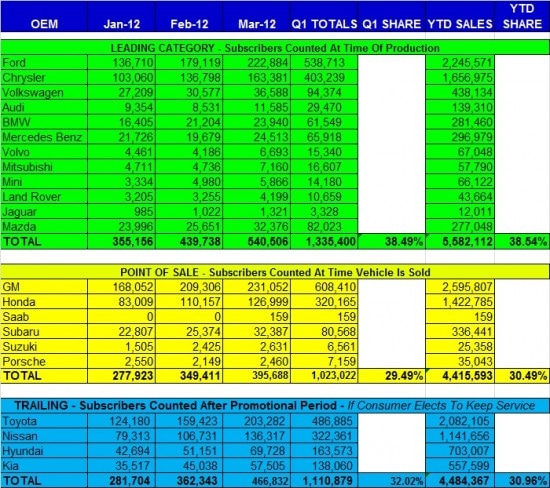 Q2 2012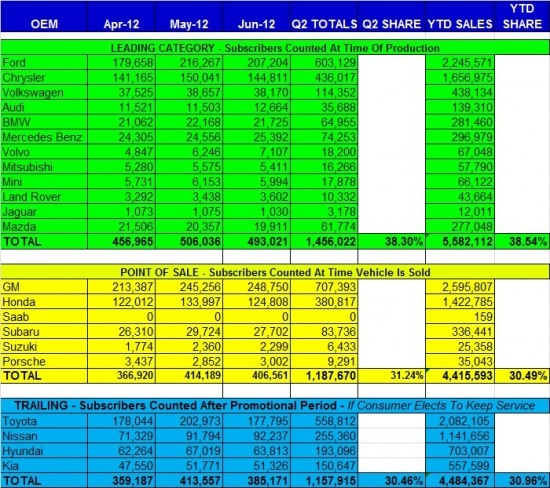 Q3 2012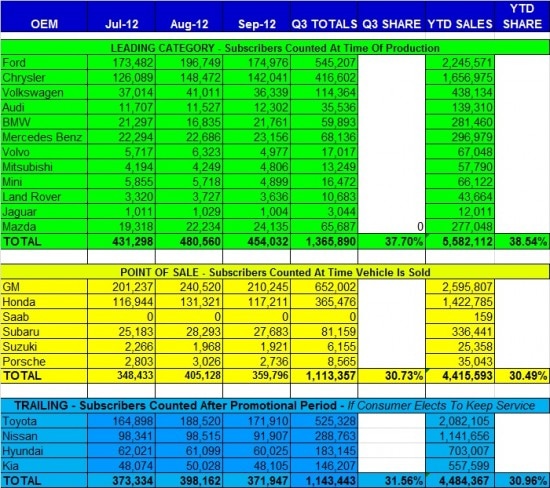 Q4 2012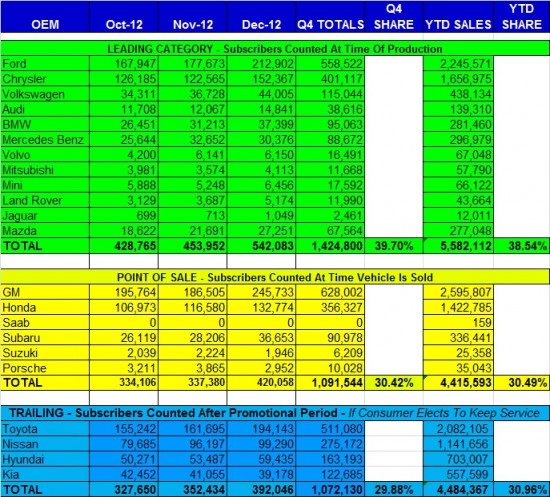 As you can see, the year progressed pretty smoothly and provided a nice double digit boost in auto sales.  SiriusXM benefited from this boost and has a decent chance of announcing a subscriber number of 2 million for the year.  In order to do this the company needs to add about 528,000 subscribers in the quarter.  Essentially the company needs to split the difference between Q2 and Q3 performance.  New car sales will certainly help, but the key to getting 2 million rests in retention and the used car market.  I anticipate that if the company is anywhere close to 2 million, they will step up retention to get it.
As we move into 2013 there are a few cautions investors need to consider.  2012 delivered 12% growth in auto sales over the prior year.  Do not look for that type of growth in 2013.  Analysts are expecting 2013 to be in the neighborhood of 15.5 million.  That would represent 6% or 7% growth.  We should see less seesaw, but it comes at the expense of slower growth.  That being said, it should make things more predictable and that is a good thing.
In addition we need to be aware that the new GM deal kicks in in Q4 of this year.  GM cars will no longer be counted as subscribers at the time a vehicle is sold.  Instead, consumers will get a three month unpaid trial (not counted in sub number).  At the end of the trial the sub will be counted only if the consumer elects to keep the service.  I will use this past Q4 as a sample:
Assume GM installs SiriusXM in 70% of its fleet.
With Q4 sales of 628,000 the subscribers counted would be 439,600 under the current system.
With conversion of 45% the actual self paying tally from this crop would be 197,820
Under the new system the subscribers counted would be 0 in the current quarter.
With conversion of 45% the subscribers added in the subsequent quarter will be 197,820.
As you can see, the delta between counted paid promotional and self paying subscribers is 241,780.  This essentially means that there will be 241,000 less counted subscribers than there otherwise would have been with the new system.  This deal is a big positive though in that the revenue share (the money SiriusXM pays GM) is a lot less now.  The new deal will be bad for Q4 sub numbers, but good for the bottom line.  I make you aware of this, because this may cause SiriusXM to give subscriber guidance that seems way too conservative.  Now you know why and you have an advantage.